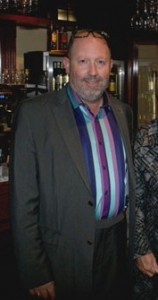 POLICE in Belfast now know the French village where crook Francois de Dietrich is in hiding.
And they've already contacted French police – asking them to act on an international arrest warrant issued by a High Court judge in the North.
De Dietrich – exposed as a crook by donegaldaily.com – is living in a village just an hour from the French capital Paris.
He fears vigilantes will try to track him down, with investors who were swindled including a former IRA man.
We have already reported how six investors met the crook in Estonia two months ago to demand their money back.
At that meeting the crook told his victims that they should kill him – because he didn't have their money anymore.
Last night a PSNI source told donegaldaily: "We now know were Mr de Dietrich is living in France and we have urgently contacted the French authorities in an effort to have him arrested.
"We are being helped by Interpol and the necessary legal papers are being completed."
The source admitted however: "We are concerned that he may now have fled that area of France, but we are confident that if he is still in the country, the French authorities will track him down."
We understand that de Dietrich fled Estonia because a specialist unit of the Estonian police were about to arrest the crook.
The Frenchman – jailed three times for fraud in his own country – is wanted by Gardai, the PSNI and financial regulators here and in the UK.
He stole millions of euro from unsuspecting investors claiming he could give them massive returns.
One Donegal businessman is owed €1.7M. But many investors were ordinary people who put in much smaller sums.
During his time in Donegal the fraudster opened the Bastille Bistro, situated below a newspaper office on High Road in Letterkenny.
The rented premises have now been re-let to new tenants who hope to open a new Italian restaurant at the site in the next few weeks.
How donegaldaily.com told you about Francois's criminal record back in January. Click here:
FRANCOIS REVELATIONS: CROOK HAS LENGTHY CRIMINAL RECORD IN FRANCE, EU-WIDE ARREST WARRANT ISSUED
Tags: