If you meet Donegal man Dessie Gallagher in a bar, chances are he'll have been asked if he's drinking Bulmers.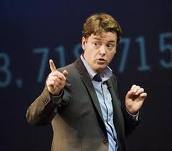 The well-known Letterkenny actor has become the face of the cider in Ireland after starring in a series of hilarious commercials for the drink.
But his latest advert for the Bulmer's brand, named Orchardomics, is probably his funniest and most high-profile to date.
Dessie can be seen showing economic guru David McWilliams around the Bulmer's orchard and pointing to areas where they are 'doing their bit' for the economy.
In one scene he points to a man bending down to pick up some apples and tells McWilliams "that's the bottom line."
In another scene Dessie, who grew up in Letterkenny's famous Burmah, shows some joggers dashing along a river and calls it "a run on the banks."
In the final scene, McWilliams asks Dessie "what about depreciation? To which Dessie replies "David – we have total depreciation for what you're doing."
The advert is father of two Dessie's 'bread and butter' as he is also involved in a number of other projects.
His past credits include Reign of Fire, Killinascully, I Keano and The Closer We Get.
Ends
Tags: