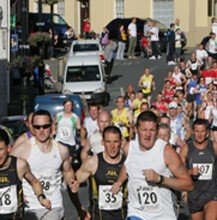 LETTERKENNY A.C's Patrick Brennan smashed the Lifford 5k record to win the annual road race in the border town on Friday night.
Brennan led from the off and finished in a time of 14.34. He was closely followed by clubmate, Ciaran Doherty who recorded a personal best of 14.38. Pauric McKinney who had held the course record finished third in a fine time of 15.19.
Ivan Toner finished seventh (16.12) while Paul McGlinchey (16.26) and Charlie Page (16.30) finished in the top fourteen.
Others to catch the eye were the ever improving Garvan McCloskey (18.34), Kevin Toner who won the men's over 60 (18.46), Lee Gildea (19.22), Paul Cosgrove (19.24), Colly O'Donnell (19.43), Richard Raymond (19.46), Eamon Patton (19.58), Irene McFadden (21.26), and Niamh McDaid (22.08).
More than 165 athletes turned out for the 10th anniversary of the event including a large contingent from Foyle Valley, Inishowen and Letterkenny.
For full results click here
Tags: