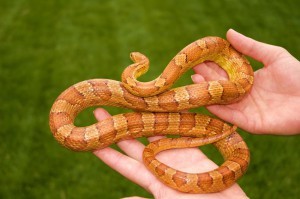 A PET snake belonging to a woman from Ballintra sneaked its way to Donegal from her apartment in England…inside the tool box of her dad!
Corn snake Zinga is a pet belonging to Eimear Conroy.
And when her dad went to England to help her to move apartment, he didn't realise the slippy creature had sneaked into his toolbox…and made the long journey all the way back to Ballintra.
Tearful Eimear thought he had escaped – never to be seen again.
But Zinga was discovered two weeks later when dad Joe put his hand into his toolbox back home in Donegal…and got the fright of his life!
Zinga is now being looked after at Ulrike Vaughan's vet clinic in Ballyshannon.
Tags: