Former President of Ireland Mary Robinson has spoken of her love of Donegal and how she always feels welcomes here.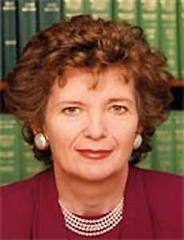 Mrs Robinson's grandparents were from Carndonagh and she revealed how she spent many happy summers in Inishowen.
Writing in the latest edition of Donegal County Council's e-zine magazine, Mrs Robinson said she may have been born and raised a Burke form Mayo but she is also an O'Donnell form Carn!
"I treasure the wonderful weeks we spent as a family in Donegal every summer – when my mother, four brothers and myself decamped en masse to my grandparents' home and my father commuted on the weekends. And the sun always shone on all those summer days!
"Even in my younger days I was aware that there was a sense of isolation in Donegal – an isolation that was very welcome for holidaymakers but very difficult for the people for whom Donegal is home, and the isolation was particularly keen in terms of transport and economy," she said.
However she added it was these difficulties which made Donegal such a rich county.
"But I believe these difficulties have led to Donegal and its people, in whatever part of the world they are living, benefitting from a richness of the language, music, literature and indeed all cultural manifestations runs deep and benefits all on the island of Ireland.
"It has been interesting to see the contributions to our culture – for example by the work of the painters of Tory Island – where the influence of isolation is so clear but in a very positive sense," she said.
She said that over the years "my Donegal" has extended to include such different aspects as the Glenveagh National Park, the fishing community in Killybegs, the Iron Age fortress Grianan an Aileach, the contemporary architectural gem of Liam McCormick's Burt Church, the Rosses, Dunlewy overlooked by the Errigal Mountains.
"But I will summarise by saying that Donegal, Dun na nGall or the Fort of the Foreigner is a place where I never feel like a foreigner and where everyone is made to feel at home," she said.
Ends