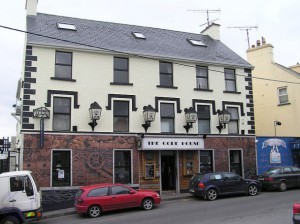 A creditors' meeting has been called for another hotel and nightclub complex – this time in Killybegs.
Cope House, in the centre of the fishing town, had been for sale on the open market.
Now the troubled business will have a meeting with all of its creditors on July 18th.
Cope House is an imposing three-storey building on the main street with the Galleon Bar, a Chinese restaurant, the Lighthouse nightclub and 12 bedrooms. The creditors meeting will take place at the Millpark Hotel in Donegal town on July 18th.
The news comes after another business in the town went into administration.
John Cunningham & Co ran a Spar Shop in the town. Specialist Patrick McDermott of Patrick McDermott & Company in Letterkenny was appointed liquidator last week.
Meanwhile a creditors meeting will take place next Tuesday, June 28th, in relation to one of Letterkenny's best known businesses – B.G. Tyres Limited.
That meeting takes place at Gallagher's Hotel in Letterkenny at 9am.
Next Monday, June 27th, a creditors meeting takes place – also at Gallaghers Hotel at 9am – in relation to Jack Barr & Sons Manufacturers Limited, Burnfoot.
Last September the company was ordered to pay a total of €353,698 to the Revenue including €223,593 in taxes and €130,105 in interest and penalties.
In a separate development, a Donegal publishing company has had a Judgement registered against it.
Durgan Media Limited has had a Judgement registered against it for more than €1k by a Belfast-based graphics company. The judgement was registered on June 17th.
Tags: