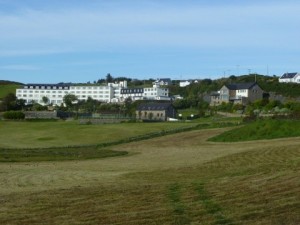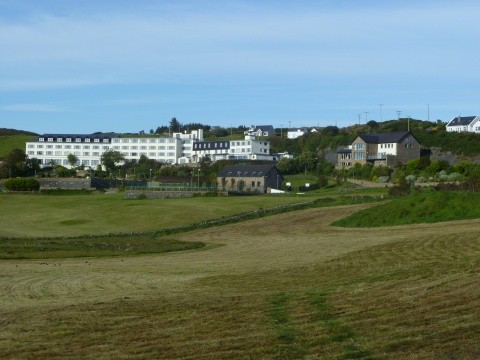 RECEIVERS today put one of Donegal's iconic hotels up for sale for a bargain €1.5MILLION, donegaldaily.com can reveal.
Shandon Hotel at Marble Hill Strand, Port na Blagh, had a receiver appointed by the Bank of Ireland in February. He is Aiden Murphy of Horwath Bastow Charleton.
Today Mr Murphy instructed Letterkenny-based estate agent Dermot Rainey of Sherry FitzGerald Rainey to sell the premises.
The hotel was owned by well-known business couple Dermot and Catherine McGlade before Bank of Ireland took its legal action.
The couple had added a spa centre to the facility which is very popular with tourists from the North.
The hotel's top quality restaurant and bar are also popular with people staying in the large number of caravan parks and holiday homes in the area.
The complex – which includes a golf course – was once thought to be worth more than €6 million.
Today the estate agent put the hotel on the open market – for a quarter of that price.
Local people we spoke to in Port Na Blagh this morning were shocked by the move.
"We knew the hotel was in trouble because of the receiver, but we all hoped the McGlades would somehow get it back," said one local man.
"It is very sad for them. They put their whole lives into that hotel and it is an important part of the community here.
"Hopefully now there will be new owners and the hotel can continue to operate. It's important for jobs in the area."
News of the sale breaks on the same day as the new Donegal Mayor Noel McBride – from nearby Carrigart – spoke of his hope that the county could begin to realise its full potential as a tourist destination.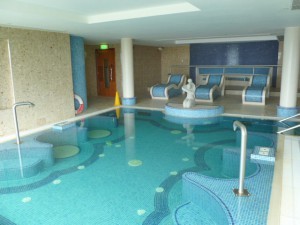 The hotel has 71 bedrooms, a self contained spa incorporating Hydro Vitality Pool and full range of treatment facilities, kids playhouse and activity centre, 9 Hole Pitch & Putt Course, new Leisure Centre/Gym with 17.5m Swimming Pool, spacious restaurant, McGlades Bar & Bistro and a residents lounge.
Further details were posted on estate agent's website www.sfr.ie today – the contact is Dermot Rainey on 074 912 2211 or by email [email protected].
Later today, after the story appeared on donegaldaily.com, Mr Rainey revealed: "It's a fine property with a lot going for it. The phone is already ringing from people who are interested."
Tags: