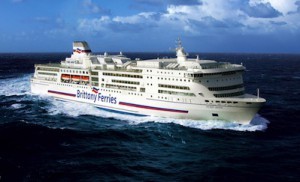 BRITTANY BY THE SEA: BY TIM HEDGLEY
I am one of those people who get sea sick in the bath, and as a young father I worried myself sick that my two girls would feel bad on a ferry crossing. I have done the Belfast Stranraer route many times and never had any reason to worry but I just do. So imagine my trepidation when I considered the 14 hour trip from Cork over to Roscoff.  Was I going to be all right, oh the high seas, miles from anywhere, you know the things people worry themselves to death about?  Well what a waste of time all that worrying was !
I drove down to cork a couple of weeks ago just before President Obama's visit and I was mightily impressed. As I drove into the harbour I saw what I thought was a massive ferry terminal, this building was huge. Closer inspection revealed it was in fact the ferry itself, the Pont Aven.  The Pont-Aven is Brittany Ferries luxurious £100m flagship ferry, launched in March 2004, this amazing craft is clearly setting new standards in passenger ferry travel and quite literally leaves the opposition in its wake. Crossing to Roscoff on this vessel is like taking a holiday in itself, and it has dramatically improved sailing times to Spain and France as a result. The Pont Aven boasts some stunning features for a cross channel ferry, including a superb pool and leisure area, a wrap around promenade for pleasant deck strolls, a dramatic five deck high atrium with panoramic views from the glass lifts and outstanding accommodation.  I suffer a little from claustrophobia so I opted for a deluxe berth with a large window, a little more expensive than a standard cabin but well worth the money. My boarding experience was a breeze and very cleverly you get handed a card on the car deck reminding you where to return to the next morning so you don't lose your car!  "Brittany Ferries are currently trialling a priority boarding service in Cork on selected sailings.  The service is attached to a Commodore or 4-Berth Deluxe cabin booking.  The trial is proving successful so Brittany Ferries hope it will be a service they will be able to offer on all sailings at some point in the future."  This amazing vessel boasts superb accommodation which is clearly setting new standards in comfort and style on board such craft. All 650 cabins have air-conditioning with individual temperature control, en-suite bathrooms, comfortable seating, and a radio. Deluxe cabins also have a flat screen TV and DVD player and Commodore cabins also have their own private balconies – the perfect place to relax while enjoying the sea views.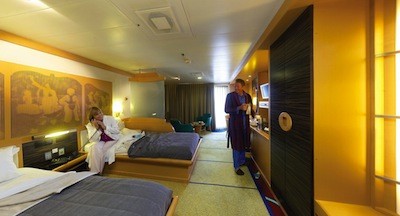 My particular cabin easily accommodated four people and was extremely comfortable, with amazing views this really felt more like a cruise ship than a ferry.  Food onboard was again of a very high standard and very reasonably priced. Sometimes when you are on a ferry the prices can be high because there is literally nowhere else to go, but on the Pont Aven things were different, prices were extremely reasonable with many dishes to suit all tastes.  The ferry also offered a two screen cinema, with up-to-date movies. Other entertainment and facilities included:
Live band, DJ, cabaret & pianist (seasonal)
Children's Entertainment Programme (seasonal)
Pool & leisure area and Mezzanine
Wrap-around promenade deck
2 Cinemas
Wi-Fi Internet Access
Children's Playroom
Video Games Room & Slot machines
Information Desk
Bureau de Change
Food Outlets & Bars
Main restaurant (Le Flora)
Self Service (La Belle Angele)
Cafe (Le Café du Festival)
Main Bar (Le Grand Pavois)
Piano & Cocktail Bar (Le Fastnet)
Pool Bar (Les Finisteres Pool Bar)
The following morning before arriving in Roscoff my cabin steward brought me my breakfast in my cabin with freshly baked croissants and bread, jams tea or coffee etc. What a wonderful way to start my few days in France, Oh la la.
The charming port of Roscoff is ideally situated for exploring all parts of Brittany including the Pink Granite Coast, Quimper and the popular resorts of Bénodet and Concarneau. Fast roads take you quickly on to Western Loire, the Dordogne and the delights of France's Atlantic coast.  My destination after disembarkation at Roscoff, was the village of Labell near Tregunc in southern Brittany. I booked my cottage through a company called Interhome. Interhome have over 45 years experience in the home rental business and is today Europe's leading provider of quality holiday homes and apartments.  They provide accommodation for over 550,000 guests annually and can satisfy just about any request with around 32,000 holiday properties in 27 countries, so as you can imagine no matter what you're looking for: mountains, beaches, city or countryside, apartment or villa, Interhome can fulfil that request.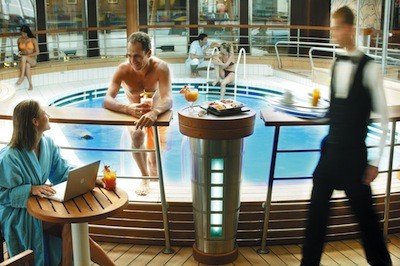 I visited their website at www.interhome.co.uk seeking a cottage in southern Brittany and within seconds I had my choice of available properties at differing prices. A great description and accompanying good photographs enabled me to make my choice in a matter of minutes. Fortunately Interhome manages the entire renting process making this a seamless operation. Literally in minutes I had a personal brochure sent to me with my instruction on how to get to my holiday home in the sun. My cottage was a very pretty Breton thatched cottage; it afforded comfortable accommodation with a living room with large stone fireplace and wood burner, nice for the odd chilly evening. Sitting area with sofa-bed, television and DVD player and dining area.  The well fitted kitchen had everything you would need including a dishwasher. Also on the ground floor is a small shower room and a separate wc. Open tread stairs from the living room lead to two bedrooms under exposed wooden beams, one double and one twin.  A third bedroom, a double with extra bed, is reached by a separate outside staircase. The location was good and it was close to shops and beaches. The property was under a mile from the sheltered sandy beach of Pouldohan and a similar distance from Trégunc great for shops and delicious fresh bread. The fishing town of Concarneau is  about three and a half miles away, with its walled old town, harbour and good choice of shops and restaurants it's a must visit.  Also on your to do list should be Carnac, no one knows for sure what purpose the giant Neolithic standing stones were erected for, although many experts consider that they formed some kind of vast astronomical observatory used to predict times for planting crops. What is certain is that this vast collection of huge granite menhirs, many of which date back as far back as 5000 BC or even earlier, rank alongside Stonehenge and the Egyptian Pyramids as one of the most important prehistoric sites in the world. Before taking a close-up look at the stones themselves, it is a good idea to visit Carnac's Archeoscope or Museum of Prehistory. Both of these centres will help you take the leap back in time necessary to fully appreciate the mystical qualities and awesome achievement that these ancient creations represent. Carnac beach is one of Brittany's most modern and lively seaside resorts. With a large, gently sloping beach of fine sand, the whole area has been extensively developed and provides a host of amenities for all kinds of fun in the sun. Eating out here can be equally enjoyable with plenty of colourful cafes and restaurants, most of which are of a good quality with very reasonably priced menus.
Roscoff is a charming, small Breton fishing village that provides the perfect gateway to the delights of Brittany. The seaside town is clustered around a small bay, with 16th-century granite houses, little shops, and bars and restaurants, hugging the shoreline. The old harbour is the best place to while away the hours while enjoying a drink with sea views, or alternatively you can take a boat trip from here to the Ile de Batz (pronounced Ba).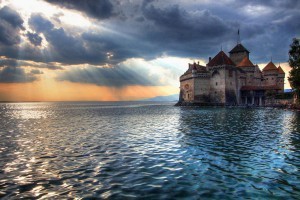 The town's tourist attractions include its tropical gardens, an aquarium, a beautiful church, and a stunning coastline. Brittany's sea is also renowned for its healing properties, and one of the region's oldest thalassotherapy centres was opened in Roscoff in 1899 and is definitely worth visiting for a pampering treat. The deep-water port at Roscoff was opened in 1973, but its harbour has been an important arrival point through the ages. Mary Queen of Scots landed there in 1548 on her way to Paris to be engaged to François, the son and heir of Henri II, and Bonnie Prince Charlie, arrived in 1746 after his defeat at Culloden. Thanks to the Gulf Stream the town benefits from a mild climate, and it is also shielded by the Ile de Batz, making it a perfect holiday destination all year round.
Top Attractions
Museum of the 'Onion Johnnies'
Britain's stereotypical image of Frenchmen wearing stripy t-shirts and carrying onions on wobbly bikes, began after visits to England by the menfolk of Roscoff. Henri Olivier first took onions from Roscoff to England in 1828 and until the 1930s 'Johnnies' would load up their boats with local produce and sail to England, where they delivered their goods to local markets on their bicycles. They used to carry up to 100 kilos, hence the wobbles, and some Johnnies would travel as far as Cornwall and Scotland for work. The Museum has recently opened to celebrate this lovely tradition.
Thalassotherapy
An excellent way to begin or end a holiday is to try a half-day "taster" course at the century-old Thalassotherapy Institute, costing around €79. Treatments include seawater and seaweed therapies, to stimulate healing and relaxation.
Jardin Exotique
This extraordinary garden boasts over 3,000 species of tropical plants, from all over the world, including South Africa, Chile and Australia. It has spectacular rockeries, and it is worth climbing up the highest 18-metre high rock, to get a superb view of the bay of Morlaix, Roscoff, Carantec and the Château du Taureau.
Notre Dame de Croatz Batz
This beautifully restored church dominates the town's skyline and is a fantastic example of 16th century gothic architecture. Its rows of bells resemble a tiered cake.
Ile de Batz
A 15-minute boat trip from the harbour will take you to the charming and car-free Ile de Batz, with its impressive lighthouse and lovely gardens, giving you a great view of the mainland.
Brittany Ferries Facts
Brittany Ferries 2011 sailing season will run until Saturday 29th October.  Departures from Ringaskiddy, Cork are on Saturdays at 16.00, arriving in Roscoff at 07.00 on Sunday.  Return sailings depart from Roscoff at 21.15 every Friday evening and arrive in Cork at 10.00 on Saturday morning.  Brittany Ferries continues to offer the fastest direct ferry crossing from Ireland to France, taking just 14 hours and operating on a convenient weekend schedule.  With state-of-the-art facilities, the Pont-Aven is the newest and most modern ship to be found on any direct crossing between Ireland and France.
There is excellent value for money to be found throughout 2011.  A family of four can travel with their car in a 4 berth cabin from €140.00 per person return, a total of €560.00.  Furthermore, there is 15% off public ferry fares when an inclusive holiday is added to any ferry booking. You can travel any time during 2011 and enjoy this great offer – including peak season dates. 

For further information or to order a copy of 2011 Ireland – France Ferry Guide and/or the three brochures, customers should call Cork 021 427 7801 or visit www.brittanyferries.com, where they can also take a 'virtual' tour of the cruise ship.
Interhome Factbox
0208 246 4100
7 night stay in Chaumiere Natelliou – Tregunc is from £499 per week
0208 246 4100
7 night stay in Chaumiere Natelliou – Tregunc is from 594€ per week
Tags: