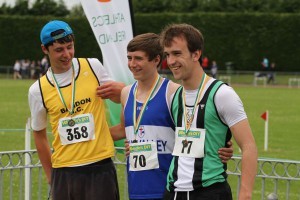 Once again there was plenty to enthuse about at the second day of the Woodie's DIY Juvenile championships at Tullamore Harriers Stadium today. The weather also remained conducive to good performances.
Fellan McGuigan (Finn Valley AC) continued the fine family tradition of throwing with an excellent win in the U16 hammer. He showed his form in the very first round with a throw of 69.35m, well over the record 67.78m of Ian McLoughlin in 1992. He improved his best to 70.13m in the second round and had his best throw of the day, 70.74m in the third round. He followed up with throws of 69.77m and 70.74m to round off a great day for the London based youth.
Ben Kiely (Ferrybank AC) produced another fine performance to win the U18 400m hurdles, over four seconds clear of his nearest rival. His time of 53.2(h) improved on the record set by Padraic Grealey of 53.7 in 1985. Kiely followed up with a win in the 400m in a time of 50.81.
Kiely's Ferrybank clubmate Ciara Giles Doran was equally impressive in winning the girls U17 300m hurdles in a time of 41.84, to smash the record of another Ferrybank athlete Megan Kiely who clocked 43.59 in 2010.
Another record fell by the wayside in the girls U18 300m hurdles where Claire Murphy (St. Laurence O'Toole AC) won in a time of 43.35, inside the 43.9 time of Suzanne Cummins set in 1994.
Karl Griffin (Tir Chonaill AC) smashed one of the longest standing records when he won the U17 800m by the proverbial mile. His winning time of 1:52.73 removed Danny O'Brien's 1:55.0 time from 1977 from the records.
Another Donegal athlete, Mark English (Letterkenny AC) ran the U19 400m the way quarters should be run – fast from the gun – to win in style. Remarkably, this was his first ever race over one lap, winning in a time of 48.02. And, for good measure, his time bettered the 1988 time of Brendan Murphy with 48.62. It was also just two hundredths of a second outside the standard for the European junior championships.
One of the closest finishes of the day came in the boys U16 long jump where David Cussen (Old Abbey AC) won by just 1cm from Sam Healy (Belgooly AC).
Tags: