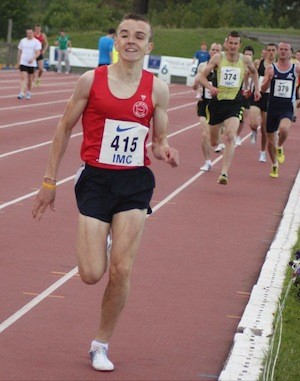 BY EAMON HARVEY: Donegal athletes recorded a number of  outstanding performances at Tullamore over the weekend when the All Irelands Part 1 were held in ideal conditions.
A number of National records and championship best performances  were recorded by the young athletes. Finn Valley pair Phelim McGuigan, threw the U16 – Hammer amassive 70.34m while brother Dalton smashed the U17 steeplechase record. James Kelly U12 Shot Putt 11.56m added tothe record bereaking weekend for Finn Valley athletes while Mark Bonnar recorded a CBP in the  Steeplechase.
Tir Chonaills Karl Griffin, smashed a thirty years old record when winning the U17 800m impressively in a time of 1min52.72secs. The Donegal Town lad who heads for the European Youth Olympics in Turkey next week, two days earlier at the Clonliffe Harriers 125 years celebration meet in Santry ran 1min50.97secs in winning the B mens 800m. This is the fastest 2011 time in Europe by a 16 yr old. Cubmate Kate McGowan skimmed over the U15  80m Hurdles to lower a ten year old record -time 11.54secs and later on Saturday was most impressive when recording 5.50m for victory in then Long Jump. Letterkenny's,Mark English, heads for the European JuniorU20 c/ships in Tallen this morning. On Sunday he steped down a distance and recorded 48.02secs for victory in the 400m – a new Co Donegal record for the distance and 0.2secs short of 400m qualification for the European Junior. innishowen AC coach Paddy Cox introduced Javelin throwing into his club one year ago. On Sunday his son Fergus threw over 37metres for an impressive victory in the U13 age group
Outside Ireland Ruairi Finnigan,Letterkenny, at he World Youth U18 c/ships in Lille battled his way to the final of the 1,500m and in a most competitive climax on Sunday evening recorded a sub 3mins 50 secs time for a top ten placing. The Lettrkenny lad heads for the European Youth Olympics in Turkey ranked in the top ten in the world, next Monday morning, accompanied by Tir Chonail mate Karl Griffin under the managership of Bernie Alcorn, Finn Valley. Bernie incidentally, has just returned from the WYG in Lille where she had the support of Tir Chonaill Coach Eamon Harvey.
Letterkenny's Mark English departs today for the European Junior U20 c/ships in Tailinn while Daren McBrearty towards the end of the week is part of a twenty person Irish team. The Juniorand U23 teams are managed byexperienced  Donegal managers Neil Martin and Teresa McDaid
Medal winners by club at the Al Irelands in Tullamore 9/10th July 2011
Tir Chonaill – Karl Griffin, Gold U17 800m NR, Kate McGowan Gold U15 80m Hurdles NR also Gold in Long Jump,Emma Brady, Silver U16 80m Hurdles, Thomas McGowan, Silver U13 Shot Putt,Louise Harvey Silver U19 100m Hurdles, Hannah Campbell, Bronze U16 Pole Vault and Clare Brady, Bronze U17 Pole Vault
Killybegs – Dylan Kearns Bronze U13 Javelin
Finn Valley  — Gold  John Kelly, U16 Javelin; James Kelly U12 Shot,NR; JadeLeeper,Silver U14 Discus, Blaithneid Patton, Silver  U16 High Jump,;Niamh McGranaghan  3rd U13 Javelin, Mark Bonnar 2nd Steeplechase U18, Dalton McGuigan Gold Steeplechase  U17 , Fellan McGuigan, U16 Hammer NR, Sommer Lecky, 3rU12 L ong Jump Shaun Woods 2nd U18 400mU18,  Aaron McGlynn, 3rd U13  High Jump
Lifford – Shannon Conwell, Gold U12 Ball Throw; Thomas Mullen, Silver U12 Ball Throw;Conor McKinney Bronze U15 High Jump
Inishowen Fergus Cox Gold  U14 Javelin
Letterkenny Mark English, Gold U19 400m,Arlene Crossan, Silver U12 -600m,Natasha McArdle, Bronze U14 800m, Peter Gibbons , Bronze U15 800m.
Tags: