Senator Jimmy Harte has accused Sinn Fein in Donegal of cheap publicity stunts in their stance on the proposed water charges.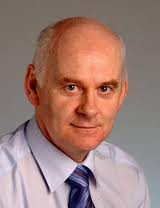 The Letterkenny-based Labour party politician said it was 'opportunist politics at its worst."
Sinn Fein in Donegal recently launched a media blitz slamming water charges.
But Senator Harte fumed  "I think the public in Donegal should be aware of the direct contradiction of the " All Ireland Party" when they sit down in Stormont.
"We all know that Sinn Féin has consistently resisted any attempt to introduce water charges in this jurisdiction but just across the border they have adopted a much different approach.
"For the last four years Conor Murphy the Sinn Fein Regional Development Minister had the opportunity to overturn legislation to introduce water metering in Northern Ireland. He did not do so.
"Indeed under his watch 23,000 water meters were installed in domestic properties. For four years he threatened to rule out water charges on a permanent basis. He did not do so.
"Instead Northern Ireland was treated to an annual series of deferrals of the inevitable until the poisoned chalice could be passed to a hapless, unfortunate Ulster Unionist Minister," he said.
Senator Harte said Sinn Fein have all the questions but none of the answers when it came to Donegal's problems.
"They were quite vocal on calling for funding to fight the recent forest fires but came up with no solutions to raise the money as usual.
"They have opposed everything and are unable to put their money where their mouth is
"Like many people in Donegal I wish that we could maintain the provision of domestic water through the central tax system.
"But to assert that this could realistically remain the case betrays a basic, wilful ignorance of the situation facing this country.
"I will say this: any new system must be informed by the principles of fairness, of equity, of conservation and must consider the ability of householders to pay.
"It is essential that the operation of the water service in the future will not fall into private hands. Labour is committed to the operation of a wholly State-owned water utility that will be under democratic control, managed and delivered by the State.
"The only difference between Sinn Fein's policy and Labour's policy in relation to water charges is that Labour is being up front with the people and not hiding behind half-truths and evasions," he said.
He added that the people of Donegal should not be fooled by cheap stunts and headline grabbing Shenanigans that Sinn Fein are good at.
"History taught us that Houdini's miraculous water tricks were elaborate deceptions. The same judgement will soon be made of  Sinn Fein's tricks."
Ends
Ends
Tags: