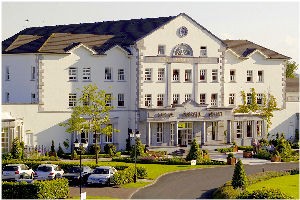 An English-based Donegal fan picked up the tab for an overnight stay by the Donegal squad and management in the Slieve Russell Hotel on Saturday night –  after the county board said it couldn't afford to do so.
Donegal chairman PJ McGowan confirmed today that an ex-pat had paid for the pre-match accommodation but insisted that it had not caused a rift between the board and team management.
Donegal's team management had asked to stay at the Slieve Russell Hotel in Ballyconnell, Co Cavan, for the semi-final because players had complained of fatigue when they had travelled to Kingspan Breffni Park to play Cavan in their previous match.
The request for that initial stay in the luxury 5-star hotel was granted by the board, but when it was made again prior to the Ulster final clash with Derry the Board said 'no'.
"Financially we just wouldn't be able to meet the request, but at that point someone else stepped in," Mr McGowan tells today's Irish Independent.
"There is no rift, there is nothing like that over it. Everyone is just happy that we are Ulster champions after 19 years again.
"We were happy to fund the initial stay in the Slieve Russell, which is a qualityhotel, and were happy to give this team as much as we can so that no stone is unturned."
Tags: