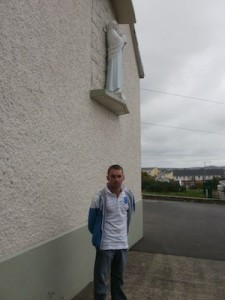 The extent of paedophile Michael Ferry's attempts to make contact with young boys has emerged with the Order of Malta confirming he was a member of their organisation and that he offered first aid services to community events in Co Donegal.
However Jimmy May, PRO for the Order of Malta, said the branch in Gweedore "never really got off the ground" and ceased to exist following Ferry's conviction in late 2002.
As gardai continue investigations into a child-sex ring in west Donegal, Mr May revealed that Ferry had assisted him at a fatal road crash in Gweedore "a year or so earlier."
However he insisted: "I would have become aware of the trial (the first case) and the Order of Malta branch there ceased to exist after that."
He said he couldn't recall how he learned of Ferry's conviction for child sex offences in 2002, adding: "It (the grpup) never really got off the ground because of the man himself; he would have offered services at a few local football matches and the like."
Today a donegaldaily reader recalled: "The Order of Malta may also have questions to answer… He was the sole tutor on an occassion to a First Aid Course and I can confirm that all males in the group were uncomfortable with him tutouring the course… this was due to the 'rumours' that existed surrounding this horrendous man, one young man was particularly affected by the simple presence of him leading the course.
"I hope that if there was a deeper reason, that He find the courage to speak out, whether it be for himself or on behalf of someone else."
Another organisation, Foroige, yesterday confirmed that Ferry had worked with children in its organisation in Gweedore between 1984 and 1987.
It has contacted the HSE and gardai to confirm this.
All across Gaoth Dobhair yesterday, small groups of local people gathered to discuss the shocking case of Michael Ferry, jailed for 14 years on Monday on 38 sample counts of sex abuse against four boys on the premises owned by Colaiste Cholmcille.
The HSE finally issued telephone numbers yesterday afternoon for people affected by Ferry to contact. It is a week today since Ferry's conviction.
Grainne Mhic Geidigh, a member of Udaras na Gaeltachta and local councillor, said the community was 'determined' to support Derek Mulligan (above) and the other victims of Ferry in the coming weeks and months.
"The community here is shocked and sickened by these revelations," she said. "Derek Mulligan's bravery contrasts starkly with the brutality and awfulness of Michael Ferry and what he did.
"We want other people who have been affected by Ferry or other paedophiles to take courage from Derek and the other boys and come forward. As a community we will help them in any way we can."
She criticised the six day delay in the HSE issuing numbers for counsellors.
Meanwhile young adults attending a Colaiste Cholmcille course being run in different premises in the Donegal gaeltacht this week expressed shock and surprise that Ferry had been given a position as an 'odd jobs' man by the organisation after his first conviction for sex offences against children in 2002.
"It sickened me to think that this went on," said one 25-year-old student, "I just wanted to get in the car and drive home again. I might just do that yet."
Seosamh Ó Gallachóir, one of the directors of Coláiste Cholmcille, told RTÉ Raidió na Gaeltachta that the affair could close the college down because of the widespread revulsion.
Abuse victim Derek Mulligan insisted again yesterday that Ferry continued to use Ardscoil Mhuire up until June 2010, but Mr Ó Gallachóir said he was not aware of that.
He said he had personally checked the premises on a number of occasions and that Ferry wasn't there when he carried out those checks.
When questioned on the credibility of this stance, when it was well-known in the community that Ferry was living there, Ó Gallachóir agreed that it was difficult to believe but that it was the truth, and that evidence that has since come to light shows that they were "clearly mistaken."
It also emerged yesterday that Ferry stayed at the premises on many occasions overnight between his first conviction in 2002 and his arrest in June 2010. This included 2003 and 2004 when a pre-school playgroup used Ardscoil Mhuire throughout both years.
Ó Gallachóir said that the future of the college was now "in danger" and a decision to end the organisation's involvement in running Irish language courses would be taken "in the next few weeks."
"There were a lot of young lads who went off the rails around here through drink and drugs during this period and it is only now that we know why," said the relative of one of Ferry's victims.
"These boys were crying out for help and they were let down badly by so many people. This community now needs help and it had better get it."