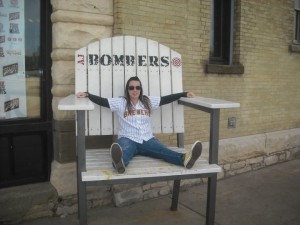 As Donegal's young people continue to flock to foreign shores, donegaldaily.com reporter Marie Duffy presents the fifth of a series of interviews speaking to those who are creating a new life abroad
Emer Gallagher is 26 and from Gaoth Dobhair and is currently living in Wisconsin, USA.
She moved there almost three years ago and is working as a nanny. Like almost all of her friends she has emigrated for work reasons and loves her new life abroad.
"I live in Madison in Wisconsin, My best friend had moved here and it seemed like as good of a place as any to start afresh. It's easier to move to a place where you know someone."
Emer moved abroad after feeling isolated because most young people her age had moved for work.
"I was working in a job that I hated, and was one of only a few people my age who were still living at home in Gaoth Dobhair full-time. My friends were either abroad, at college or working away from home during the week."
"At the moment I am nannying, and it turns out that I'm quite good at it. I don't have enough hours in my week to do the work people need me for which is a good complaint to have."
Despite embracing her new life abroad, Emer misses home and admits 'it's not the same here'.
She says: "I miss my friends and family a lot. Not being around to see my nephews and niece grow up is tough but to be around my friends I sadly had to move away from home. What's even sadder is that it appears to have gotten a lot worse at home since I left."
Like the other emigrants Donegal daily has spoken too, Emer does not miss the weather.
"I don't miss the weather that's for sure. Even though I have moved to a state in the Midwest where we get 4months of snow it's not as bad as the unpredictable weather back in Donegal, here there are definite seasons which is awesome."
She also enjoys living in an urban setting, and the privacy that comes with it.
"I also don't miss the gossips and the small town mentality I left behind in Gaoth Dobhair. People give the yanks stick for the way they act and talk but honestly it's a nicer environment to live in. People like to see you succeed and they have welcomed me with open arms.
"I have embraced their culture, and besides I don't know any other baseball fans from Gaoth Dobhair."
If you have emigrated and want to share your story with Donegaldaily.com please email us on info@donegaldaily.com
Tags: