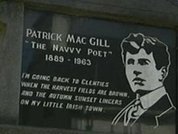 BY MARIE DUFFY The annual MacGill Summer School is taking place in Glenties, from Sunday 24 July until Friday 29 July.
The title of this year's school is 'The First Hundred Days, The Next Five Years', and will focus on the future of the Irish economy.
For those who are not lucky enough to attend the debates, there will be a live webcast streamed on the Donegal County Council website.
Full Schedule:
24 July MacGill Summer School opens with British Ambassador Julian King. Taoiseach to deliver annual John Hume Lecture at 8.30pm.
25 July 11:00: Has the political landscape in Ireland changed forever? (Speakers: Frank Flannery, Noel Whelan, Senator Averil Power)
13:00: Tribute to Garrett FitzGerald and Brian Lenihan
14:30: The Future of Irish Banking with Matthew Elderfield. An Outside View of the Irish Economy Now with Kevin Gardiner
16:00: Launch of guidebooks by architect Carole Pollard
20:30: How long and how hard is the way to Recovery? (Speakers: Brian Hayes, Pearse Doherty, Joe Durkan)
26 July 13:00: There are more hard decisions to be made (Speakers: Colm McCarthy, Prof. Philip Lane, Brigid Laffan, David Begg)
14:30: The Outlook for Ireland in the EU/Eurozone (Speaker: Per Callesen, former Danish Govt Rep IMF & Governor Danish Central Bank)
16:00: Transforming our Ind. Landscape and Creating Jobs (Speakers: Sean O'Driscoll, Martin Murphy, Richard Bruton)
20:30: Transforming the Public Sector – How and When? (Speakers: Dr. Eddie Molloy, Sean Fleming, Shay Cody, Robert Watt)
27 July 11:00: Agriculture & Food – A lot done, More to Do (Speakers: Rowena Dwyer, Simon Coveney, AN Other)
14:30: Transforming our Politics – Have we the will? (Speakers: Prof. Peter Mair, European University, Eamon Ryan)
Report from the "We the Citizens" countrywide conventions by Prof. David Farrell & Caroline Erskine
20:30: Transforming Education with Fewer Resources (Speakers: Dr. Mary Canning, Prof. Brian MacCraith, Ruairi Quinn
28 July 11:00: Energy and Natural Resources – Part of the answer to the crisis? (Speakers: Brian Britton, Pat Rabbitte)
14:30: The Future of Irish Banking? (Speaker: David Hodgkinson)
16:00: Transforming Social Protection (Blair Horan, Prof. Philip O'Connell, Joan Burton)
20:30: Transforming the Health System – Can we get it right? (Speakers: Dr Ruth Barrington, Aileen O'Meara, John Armstrong, Dr James Reilly)
29 July 11:00: Is Ireland a country for young men and women? (Speakers: Ruairi McKiernan, Andrea Pappin, Ronan Lyons)
20:30: Transforming Ireland 2011-2016 – the role of Uachtarán na hÉireann (TBA) (Speakers: Mary Davies, Michael D Higgins, Gay Mitchell and Sean Gallagher
Tags: