The fisherman who hooked a huge shark off the coast of Donegal this week has warned – there's a monster shark out there!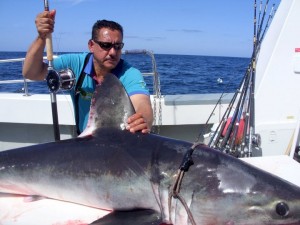 Top angler Don McCloskey took almost an hour and half to land a 300Ib Porbeagle shark off Fanad Head.
But now Don has revealed how friends just missed a 500Ibs shark the previous day.
"I spoke to the lads and they almost had him on board but he was just too big.
"They reckon he was up to 500Ibs. That is a huge fish and it will take someone special to land him," he said.
The current Irish record is 365Ibs for a shark caught off Achill head in Co Mayo in 1932.
Don only had his rod in the water a few minutes last weekend when he hooked the huge female shark using a mackerel.
His friends had to give him drinks and use towels to keep him cool during his battle with the massive creature.
But once the shark was landed and tagged, big-hearted Don put him back into the water to fight another day.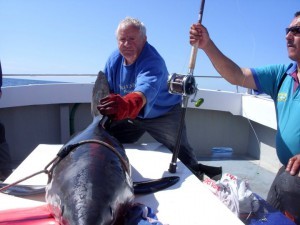 "I just couldn't bring that fish back to shore – it was just too beautiful," he said
Don, who is from Limavady in Co Derry and who has fished for Ireland, reckons Irish waters are alive with huge sharks.
"There's no question there are bigger sharks out there – probably even bigger than the 500Ibs one the lads nearly landed.
"That's the great thing about fishing – you just don't know what's going to come out of the water," he laughed.
Shark expert and marine wildlife ranger Emmett Johnston said a 500Ib shark would certainly smash the current record.
"It would not only smash the Irish record but also probably the Atlantic record.
"That is a very big shark. Porbeagles are real sharks in the real sense of the word because they have large teeth and eat large fish.
'They are certainly not docile like the huge basking shark and they have been known to nibble at bather's feet.
"But they rarely come near the shore and instead stay out in deep waters," he said.
Ends
Tags: