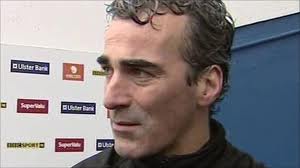 PROUD Donegal manager Jim McGuinness said after the triumph at Croke Park that he used jibes by Kildare to inspire his team.
Jim said accusations thrown at Donegal that they cynically fouled opponents helped inspire his Tir Chonaill braves to victory over Kildare in the All-Ireland quarter final.
And ironically in extra time it was Kildare who played a cynical game, taking out Donegal players with rugby tackles and then time-wasting during fake injuries and kick-outs.
McGuinness claimed after Saturday's epic extra time battle that Kildare had contacted national newspapers before the game in relation to the referee and Donegal's alleged cynical fouling.
"We're very, very disappointed and we are happy the referee (David Goldrick) did not take the bait."
"It was motivation for us and I'm so proud of the players."
McGuinness said he had been contacted by papers on Friday to respond to what had come out of the Kildare camp but he refused to comment then.
Said Jim: "Kieran McGeeney was a phenomenal player and he never cried or whinged – we were not impressed by what we read.
"If anyone watched the Kildare players in extra-time, there was a lot of cynical fouling.
"You should do your job on the coaching field – you should not try to beat teams through the media.
"We do not coach cynical fouling. We coach hard work and turning the ball over, we make no apologies for that.
"Donegal have been lambasted the last two years, that they didn't have the heart to turn the ball over, and now we are criticised for it.
"The players have come through the pain of losing big games, now we are winning games and hopefully it will continue into the semi-finals."
And so say all of us Jim.
SEND YOUR MESSAGE TO JIM AND THE TEAM IN THE COMMENT BOX BELOW:
Tags: