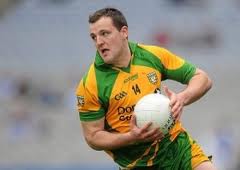 DONEGAL Captain Michael Murphy said sweet victory over Kildare at Croke Park in the All-Ireland Quarter Final was just reward for the hard work put into the county effort by the players and management team.
Murphy revealed that he played through the pain barrier when he came on as a sub in the 28th minute despite a hamstring strain.
Said the delighted Glenswilly man: "It's no secret that Jim McGuinness, Rory Gallagher and the whole management team came in they had great faith in us.
"Every man worked hard on their game to try and find ways of improving themselves.
"It's amazing when a whole group of lads get together and they are pulling in the one direction what can actually happen.
"I suppose we were just delighted that we managed to put in that hard work. Sometimes when you do put in the hard work it's nice to see a few benefits.
"Maybe over the last few years this team has shipped a lot of flak for having a bad attitude – or maybe not working hard enough is another one.
"I suppose this year you can never get it right. We were working too hard now in certain quarters.
"It is just a matter of the whole lot of us sticking together. That's the way we are at the moment and that's the way we will continue to be."
The county captain said the players never lost faith in their ability to claw their way back into the game in extra time.
"We have always been coached and we always had it going through our minds that you keep going until the final whistle," said Murphy.
"When they were three down midway through the second period (of extra-time) it would have been very easy to lie down and go through the paces.
"But we knew that there were scores in the team. We felt we were keeping Kildare out relatively well and it was just a matter of trying to construct a few attacks and we managed to get over a few scores. We are delighted that the scores managed to go over."
He said he wasn't risked from the start because of a slight hamstring tear, adding: "I picked up a slight tear in the hamsting last week in training and the medical team didn't think that there was 70 minutes in it.
"I suppose I had to play a lot more in the end but I thought it was best coming in from the bench rather than starting the game and having to come off.
"It's amazing what a few painkillers can do."
Tags: