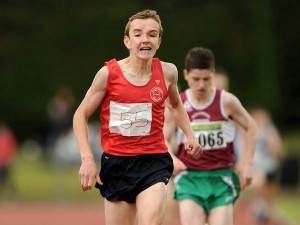 BY EAMON HARVEY: On the last day of the EYOF's in Trabzon, Karl Griffin of Tir Chonaill AC, secured the third bronze medal of the championships for the Irish in the 800m. Griffin, made a decisive move at the 200m mark having drifted from the leading pack.
He used his speed to move into medal position, finishing third in 1:51.64, less than a tenth away from a silver medal which was won by Nemanja Kojic of the Netherlands in 1:51.55, the winner was Brecht Bertels of Belgium in a time of 1:50.90.
This brings Ireland's medal tally at these championships to six; two gold, one silver and there bronze. There were also four athletes who finished in top eight positions.
And to top off the tremendous performances there were four new Irish Youth Records set and six personal bests making it Ireland's most successful championships ever.
Marcus Lawler was also in action today and he put in another terrific performance in the boy's 200m final, finishing in fifth place in 21.61, just three hundredths away from making the medal podium.
Although disappointed not to have medalled, he did have reason to be pleased that he improved his own Irish youth record, taking another hundredth of a second off the time he ran in the heat. Ciara Giles Doran (Ferrybank AC) finished a very credible seventh in the 200m girl's final in 24.87, after setting a personal best of 24.46 in the semi-final.
The Girls 4×100m team were unfortunately disqualified in the final for running out of their zone in one of the baton change-overs.
The highlight of the championships was undoubtedly the two gold winning performances of Ruairi Finnegan (Letterkenny AC) and Ben Kiely (Ferrybank AC).
Finnegan put in a tremendous performance on day three of the championships to wIn the 1500m, he lead the race throughout, with 120m to go he moved away from the rest of the leading pack, to win in convincing style in 3:53.78. Samuele Dini of Italy was second in 3.54.45.
On day four, Kiely produced a sensational performance in the 400m hurdles winning in 52.69, breaking his own Irish Youth Record of 53.66. Kiely didn't have the best of starts and was placed in 5th position with three hurdles to go; however he kept his composure and attacked the last hurdle to overtake Jacob Paul of Great Britain who placed second in 52.89.
There was another medal for the Irish in the 1500m when Siofra Cleirigh Buttner (DSD AC) produced the goods and finished second in 4.26.42. Siofra was part of the leading break-away pack of five after the opening lap. In the closing stages it was a battle between Sophie Riches of Great Britain and the Dundrum athlete with Riches pulling away to won the race in 4.25.95.
Megan Kiely, twin sister to Ben secured a bronze medal in 1:00.44, having narrowly missed the silver by two hundredths of a second. Sarah Lavin (Emerald AC) produced a gutsy performance to improve on her Irish Youth Record that she set in the heat, running 13.62 to finish third in the 100m hurdles.
On day two of the championships, Sean Tobin produced a noteworthy performance to finish fourth in the 3000m in a personal best of 8.29.91. Tobin, who battled extremely hot and humid conditions, was in the hunt throughout and was part of the leading pack of four throughout but with 300m the top three athletes pulled away. The race was won by B.Ivan Horodyskyy of Ukraine in 8:21.99. Greg O'Shea ran a personal best in the final of the 100m finishing sixth in 10.88. Grainne Moynihan ran a personal best of 55.31 in the 400m heat and was unlucky to make the final as her time was the seventh fastest overall but as she finished fourth in her heat she missed an automatic qualification spot .
While the Boy's relay team of Ben Kiely, Greg O'Shea, Karl Griffin and Marcus Lawler set a new Irish Youth record of 42.67 improving on the 42.99 set in 2009, to place sixth in their heat but they did not progress to the final. Matthew Martin (North Down AC) finished just one place outside qualification in the Boy's Javelin throwing a personal best of 62.72. Aisling Croke jumped a credible 1.65 in High Jump but was outside the qualification places. While Amy O'Donoghue (Emerald AC), found the heat tough going and didn't progress on this occasion.
Jacqui Freyne, Athletics Ireland Youth and Junior High Performance Manager commented 'This is an incredible bunch of talented young athletes, who have received terrific support from their parents, coaches and clubs. Athletics Ireland has also been supporting these athletes through our national and regional squad sessions and performance warm weather camps and our objective now as an organisation is to nurture this talent and to progress it through to junior, U23 and eventually the senior ranks'
Tags: