Underwater archaeologists believe they may have discovered a sunken Spanish Armada vessel off the Donegal coast.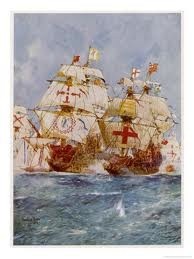 Minister for Arts, Heritage and the Gaeltacht Jimmy Deenihan has announced State funding for an excavation of the wreck at Rutland Sound near Burtonport.
The evidence recovered so far indicates that the vessel, which is lying in relatively shallow water, is from the 16th Century and part of the 1588 expedition.
Minister Deenihan described the discovery as 'a major find of significance not only to Ireland but also to the international archaeological, historical and maritime communities'.
He added: 'It could provide huge insight into life on board and the reality of the military and naval resources available to the Armada campaign.'
Junior Minister Dinny McGinley has described the find as very exciting and says it could have all sorts for potential for the local area.
Ends
Tags: