The wheel of a crashed Spitfire that lay buried in Donegal bogland for almost 70 years has finally touched down back at its home base.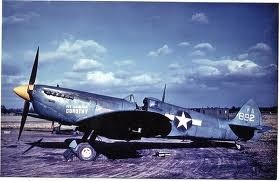 The RAF Second World War fighter plane was raised from the ground earlier this year after being found preserved in clay on an isolated Inishowen hillside at Moneydarragh.
Flown by American pilot Roland "Bud" Wolfe, it had taken off from RAF Eglinton in November 1941 a short distance across the border in Northern Ireland on a patrol mission.
But Pilot Officer Wolfe was forced to bail out and abandon the plane after the engine overheated, leaving it to crash into the rugged Inishowen peninsula.
The crash caused a diplomatic incident, with the 23-year-old Nebraska man briefly held in an internment camp in the neutral Republic of Ireland, only to escape weeks later and catch the train from Dublin over the border to Belfast.
The lack of oxygen in the clay bog where his plane ended up protected it from the passage of time and the wreck, recovered a few weeks ago by an archaeological team, is now bound for a museum in Derry.
But in a symbolic gesture, the tailwheel of the Mark IIa Spitfire P8074 has been given to City of Derry Airport, where the plane's RAF 133 (Eagle) squadron was based during the war.
Mr Wolfe went on to serve in Korea and Vietnam, dying in 1994 as a retired lieutenant colonel. His daughters Barbara Kucharczyk and Betty Wolfe thanked the team in Ireland for recovering his plane.
"We know that Bud Wolfe did not attribute political or even historical significance to his military career, nor to his life experiences," they wrote in a letter.
"However, he loved flying and appreciated the Spitfire above all other aircraft he flew.
"We feel certain that he would be stoically ecstatic to heft the tail wheel, lay hands on the propeller, tinker with the Rolls Royce engine, and maybe slip on the flying gear when no-one was watching. He would respect your efforts and salute them, as do we."
Ends
Tags: