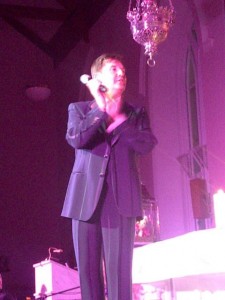 It would appear that Daniel O'Donnell might just be more powerful than Donegal County Council!!

Work which was due on vital roadworks in West Donegal has been suspended to allow for the large crowds expected at the Donegal Shore Festival featuring the singing star.
Road widening and drainage works were due to continue on the R259 road between Kincasslagh and Crolly today.
However the work was put on hold to cater for a fleet of buses attending the Donegal Shore Festival featuring the millionaire singing star.
Donegal County Council had scheduled the work for the entire month of September before bad winter weather set in.
But the council were met with huge opposition by organisers of the event who said it was badly-timed.
One of those who slammed the council was bar-owner Bartley Brennan, a brother of singer Enya who claimed he had not received any notice of planned road closures during the festival.
Organiser Celia Gallagher said the council did not appreciate all that Daniel did for the county in bringing fans to Donegal.
However it appears the council has relented after up to 12 coachloads of fans from across Ireland and the UK were allowed to drive through the area without any roadworks.
Although there was no official confirmation form Donegal County Council on the matter, a source said an agreement had been reached.
'It's only for a day and the work will recommence on Monday. It would have caused a lot of disruption for the buses and the fans.
"Afterall the festival has brought a lot of money into the area and we all know how bad the tourism sector is at the moment," he said.
More than 2,000 fans of the singer, some who came form as far away as Australia and America, are expected at the event.
Ends
Tags: