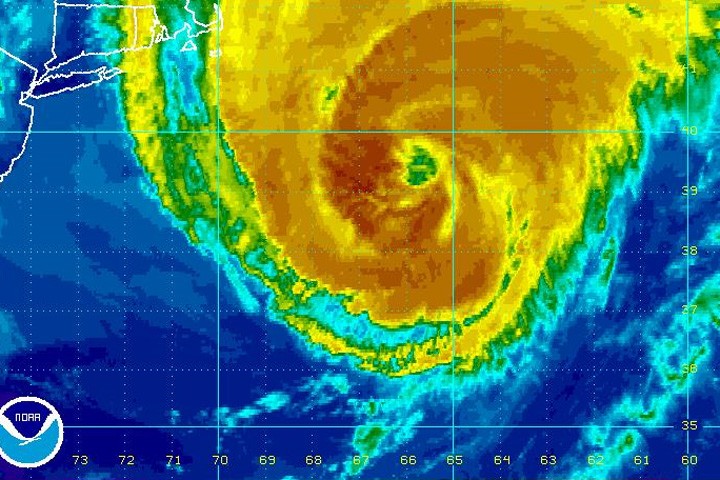 DONEGAL is expected to take the brunt of the Hurricane Katia, forecasters said tonight.
The remnants of the crazy weather pattern could bring gusts strong enough to uproot trees, create widespread travel chaos and cause major damage to buildings.
All forecasters tonight issued an extreme weather alert, warning of floods and "phenomenal" ocean conditions.
Katia, now a Category 1 hurricane, had been expected to hit US coastal regions but changed direction, with the 100-mile-wide storm bearing down on Donegal, with torrential rain and 90mph winds.
Experts predict there may be only a slight easing of the gusts before it hits the north west of Ireland – but that may be of little consequence.
Fears are already being expressed about road conditions on Monday morning between 5am and 11am – with the school run for many parents promising to be the scariest ever!
Katia is expected to be the fiercest storm to hit the county in 50 years.
"People should be aware of the risk of disruption to transport and the possibility of damage to trees and structures. There is uncertainty about its track and intensity and warning areas may be extended or upgraded," said a Met spokesman.
"The best estimate is that northern and western parts are most at risk from very strong winds. But all areas could potentially see impacts of Katia, with wind gusts possibly up to 80mph.
"It is quite rare for us to be affected by a hurricane. It is maintaining a fair amount of its strength which is why we have issued weather warnings."
Another Hurricane is heading up the Atlantic next weekend – Hurricane Maria. At this stage it may miss Ireland and Donegal.
HERE'S THE VERY LATEST FROM IRISHWEATHERONLINE:
SUNDAY NIGHT … Stormy with blustery southwest winds developing, heavy or squally showers with thunder and hail mixed with a few clear breaks, winds rising to SSW 40-60 mph in many areas and 50-80 mph in coastal west and northwest. Strongest winds towards daybreak, overnight temperatures steady near 15 C north to 17 C south.
MONDAY … Windy or very windy, with storm force wind gusts west and later north, to near hurricane force in exposed locations of northwest coast (SW veering WSW 50-80 mph), while further south in most of Leinster and Munster, gale force winds at times, showers clearing away east with some sunny intervals, winds WSW 35-55 mph … temperatures in the north around 15-17 C but rising to near 20 C in southeast during the morning before levelling off near 17 C later.
Tags: