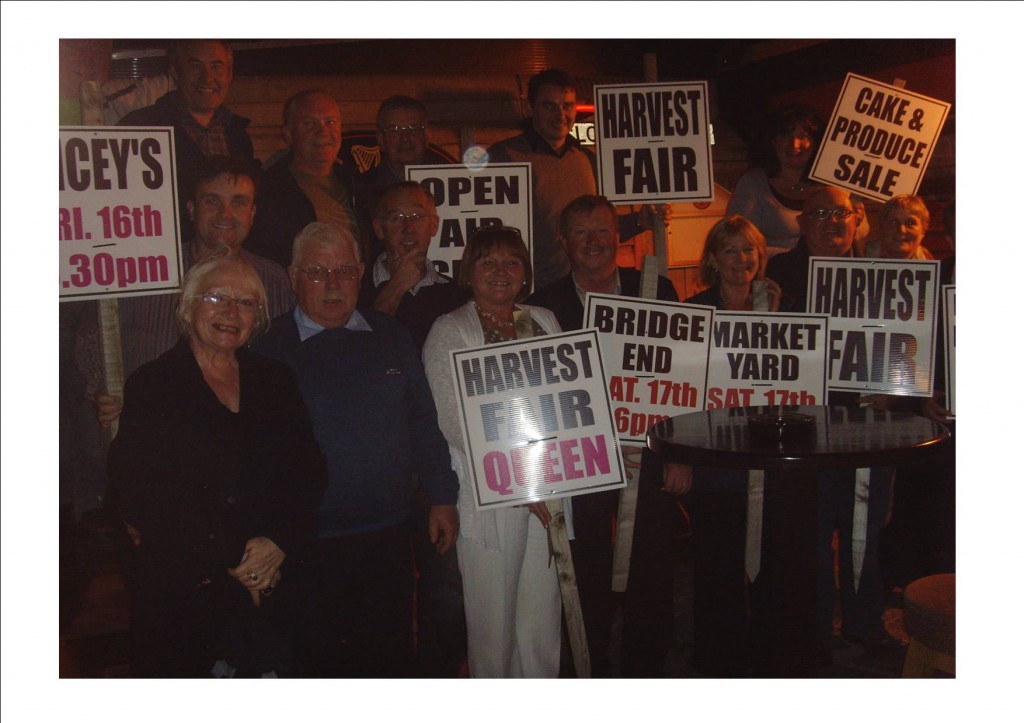 Young women are queuing up to become Harvest Fair Queen of Ballyshannon when the event returns this weekend after an 11-year-break.
By last night more than 25 were entered for the contest in Dicey Reilly's bar on Friday evening.
Mai Kelly, one of the chief organisers, said: "That's an outstanding entry, unbelievable."
She said she is extending the closing time for entries to 1 p.m. on Friday in case any other businesses or community groups wants to add to the nominations.
The last Harvest Fair Queen, Linda Clarke – now Linda Gallagher – will crown the new queen after selection by a panel of judges headed by Ocean FM's Paul Scanlon who will also be compere.
All prospective queens are expected to be in Dicey's by 8 pm. and selection will be at 9.30 p.m.
As well as presenting the prizes at a glittering function on Saturday to all Harvest Fair winners, including successful people in the arts contest which had a massive entry at local schools, the Queen will also earn her own prize of a weekend with dinner for two at the Diamond Coast Hotel, Enniscrone, sponsored by Failte Ireland and a bouquet of flowers sponsored by Le Fleur.
She will also have a beauty voucher from Martina at the Essence of Beauty, and a sash sponsored by Bernie and Martin McGrane.
A unique essence of the returned Harvest Fair will be an exhibition of vintage bicycles and other artifacts from John F McGee in the Market Yard on Saturday between 2 pm and 7.30 p.m.
An open-air Ceili, also on Saturday at the Bridge End with the Assaroe Cheili Band from 6 pm to 7. 30 pm will, if weather isn't suitable, be moved into the marquee in the Market yard.
On Friday afternoon there will be a special sale of furniture and bric a brac at the Thrift Shop, East Port, between 2pm. and 5 pm with lots of bargains.
FANCY DRESS
A Fancy Dress competition will be held in the Abbey Centre on Saturday from 2 p.m., with contests separated into one for the over-8s and one for the under-8s. Prizes are sponsored with €500 from Mohan's Amusements who will be in the Market Yard all weekend. Further details can be had from Pauric Bromley at 087 2887459.
ART COMPETITION
It's based on a harvest theme and prizes for this will also be sponsored by Mohan's and entries will be on display in the Abbey Centre and at various places in town.
HOME MADE PRODUCE MARKET
This will be in the Market Yard marquee and will include baking, jams, vegetables, eggs, flowers, poultry, turf and other interesting home produce. Home-made crafts will be for sale. Participants should contact Billy Grimes at 086 8416476 or Brendan Gallagher at 086 8057947.
SPONSORS
They include John Mohan, Failte Ireland NW, Mai Kelly Beauty and Hair Salon, Mr Gs, Frances McGinley, Ann Boyle's Pharmacy, Ann McGowan, Atlantic View CDP, Nirvanna, Trisha's Hair Salon, Le Fleur, Bernie and Martin McGrane.
ENDIT
Tags: