Business people from across Donegal were given a masterclass in the delights and dangers of marketing their businesses on the web at a very unique conference yesterday.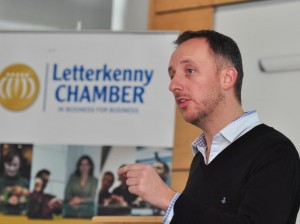 The event saw Letterkenny Chamber joined forces with Donegal County Enterprise Board to host The Digital Leadership Roadshow at the CoLab in Letterkenny Institute of Technology.
The roadshow was created and delivered by web experts iON to highlight the role of management in creating an effective digital marketing plan.
It was also aimed to enthuse business owners and managers by presenting
them with cutting edge advice by one of Ireland's top Digital Thought
Leaders.
The Roadshow was presented by Niall McKeown, Commercial Director and founder of iON.
Niall has been an internet entrepreneur for over a decade and has
extensive experience in digital marketing strategies, sales, business
growth, new product development and new technologies.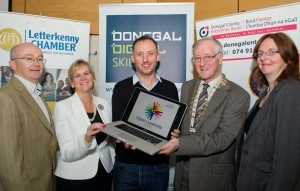 His business has grown from a small email marketing company to an organisation with customers in 15 countries. As well as small businesses iON also consults with major Irish and worldwide brands.
Toni Forrester, Letterkenny Chamber CEO said the event did exactly what it was meant to do.
"Niall left the audience today with a lot to think about in terms of their digital
marketing.
"He covered some great examples of businesses doing it right and
gave us all tips on the very important starting points in terms of
developing a marketing and digital marketing strategy.
"Vision, time and passion are not normally associated as digital marketing terms but to do it right a business needs all three and needs to really understand its customer and potential customer.
"The audience went away challenged but also inspired to do it right and their strategies will come to fruition over coming months and years to make digital marketing work for their business."
At the event also launched Donegal Digital Skillnet that will deliver
subsidised training to help Donegal Companies boost sales through their
digital marketing strategies.
Much of the training already in place will be the practical tools and skills needed to drive digital marketing campaigns coupled with the digital marketing strategy training that Niall enthused about.
"The Skillnet is enterprise driven and we are keen to hear what training
businesses need so we are asking people to register with us as soon as
possible and if they have a specific need we want to hear from them.
"There are huge opportunities and we want to work alongside businesses to help them harness what opportunities they can and Donegal Digital will respond effectively to their needs. "
For more information log on to www.donegaldigital.com.
Ends
Tags: