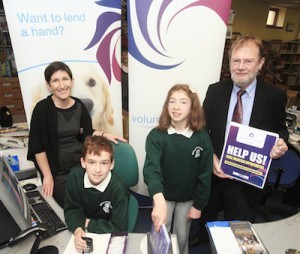 Donegal Volunteer Centre is set to launch a new initiative aimed at supporting the emergency services, civil defence, community groups and voluntary committees with various activities.
The Donegal Volunteer Corps is the brainchild of Donegal Volunteer Centre and will be launched during National Volunteer Week which takes place 26-30 September.
This new initiative will see the formation of Donegal Volunteer Corps, and the recruitment of Corps members and an establishing voluntary committee. Activites envisaged for the Donegal Volunteer Corps will include local environmental works, festivals, concerts, clean-ups, sports events and tree-planting, along with being available to help the emergency services if called upon.
Donegal Volunteer Centre Manager Gearóid Ó Maonaigh says the Donegal Volunteer Corps will bring an organised structure for volunteers from across the county who want to help, and will also provide training for volunteers.
"We believe the Donegal Volunteer Corps will play a vital role for the inclusion of the local community in 'helping out ' in  situations such as serious weather conditions, searches for missing persons or summer festivals. Also, this is a structure for the emergency services to have access to a pool of trained volunteers which they can rely on for extra support when needed. "
A series of activites will take place in Donegal to celebrate National Volunteer Week.
On Tuesday 27th September Mary Davis, CEO Special Olympics EurAsia and Presidential candidate, will launch the Volunteer Corps as well as launching a new Volunteer Information Pack entitled "Help Us".  This resource will be available in libraries throughout Donegal in association with the Europe Direct Centre and Donegal County Council.
Europe Direct Centre Manager, Ciara Cunnane says, "the library service in Co. Donegal is assisting the Donegal Volunteer Centre in the search and recruitment of new volunteers.  The 'Help Us' information pack will be distributed to each library in the county and will give advice on volunteering and list local volunteer opportunities."
Other activities taking place during National Volunteer Week is FREE LUNCH FRIDAY on 30th September from 12noon – 2:00pm in the Mount Errigal Hotel.  The event will allow members of the public to meet organisations who are seeking volunteers.  And as the name suggests, there is a FREE lunch for everyone who attends.  The event is free and no registration is required.
For more information log onto www.volunteerdonegal.ie or contact Donegal Volunteer Centre on 074 9126740.
Tags: