After back-to-back on field scoreless draws in their last two games, Finn Harps will be looking to extend their unbeaten run when they host Salthill Devon at Finn Park on Saturday evening (kick-off 7.45pm)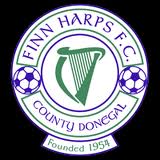 Finn Harps Manager, Peter Hutton, will have to plan without the suspended trio of Gareth Harkin, Blain Curtis and Packie Mailey while the boss himself will also sit on the sidelines with a hamstring complaint.
Hutton has been pleased with how his team has progressed in recent weeks, and feels they are a tougher nut to crack now – as both Monaghan United and Waterford United have found our in recent weeks.
"You have to build from the back, set the foundation there first and foremost," said Hutton.
"Defensively, we've been doing quite well, but we'd definitely like to be more creative going forward. It's an area that needs addressing. We need to look at taking the right options in the final third and increase our 'goals for' column.
"But the reason our defence has tightened up is because it hasn't just been a back-four effort. And for us to improve on our goals-scored record it will take an equal team effort going forward. We'll look for our defenders and midfielders to chip in with some goals too, particularly from set-pieces. It's not just down to our attackers."
Harps have lost just once in their last six games, keeping five clean sheets, and have a great chance of extending that run against bottom of the table Salthill.
"We'll try and carry on the same vein of form we've been enjoying. We haven't been playing great by any stretch, but we've been particularly solid and not conceding too many goals. They will come up quietly confident of getting a result, but the onus is on us as the home side to set the tempo and take the game to them," he said.
In the earlier season meetings between the two sides, Harps were held to a scoreless draw by the Galway men at Finn Park in April before a Kevin McHugh hat-trick helped them to a 4-0 victory at Drom in June.
~~~~~~~~~~~~~~~~~~~~~~~~~~~~~~~~~~~~~~~~~~~~~~~~~~~~~~~~~~~~~~~
Suspended: Gareth Harkin, Blain Curtis, Packie Mailey.
Doubtful: None.
Injured: Peter Hutton (hamstring).
Form Guide (last six league games)
Finn Harps: W-W-L-W-D-D (11 pts)
Salthill Devon: W-L-D-L-L-L- (4 pts)
~~~~~~~~~~~~~~~~~~~~~~~~~~~~~~~~~~~~~~~~~~~~~~~~~~~~~~~~~~~~~~~
Previous home games against Salthill Devon
12-Mar-10 – Finn Harps 2-0 Salthill Devon (First Division)
20-Aug-10 – Finn Harps 3-2 Salthill Devon (First Division)
08-Apr-11 – Finn Harps 0-0 Salthill Devon (First Division)
~~~~~~~~~~~~~~~~~~~~~~~~~~~~~~~~~~~~~~~~~~~~~~~~~~~~~~~~~~~~~~~
Finn Harps Goalscorers 2011
Kevin McHugh – 10
Blain Curtis – 4
Marc Brolly – 3
Kevin Devanney – 1
Keith Cowan – 1
Gareth Harkin – 1
~~~~~~~~~~~~~~~~~~~~~~~~~~~~~~~~~~~~~~~~~~~~~~~~~~~~~~~~~~~~~~~
Finn Harps Results 2011 (Harps goalscorers in brackets)
9th September 2011 – FD – Waterford United 0-0 Finn Harps
4th September 2011 – FD – Finn Harps 0-0 Monaghan United
20th August 2011 – FD – Athlone Town 0-1 Finn Harps (McHugh)
13th August 2011 – FD – Finn Harps 1-2 Limerick (Brolly)
6th August 2011 – FD – Finn Harps 2-0 Mervue United (Devanney, Curtis)
22nd July 2011 – FD – Wexford Youth 0-2 Finn Harps (Curtis 2)
16th July 2011 – FD – Finn Harps 0-3 Shelbourne
9th July 2011 – FD – Longford Town 2-3 Finn Harps (Cowan, McHugh)
2nd July 2011 – FD – Finn Harps 0-2 Cork City
25th June 2011 – FD – Salthill Devon 0-4 Finn Harps (McHugh 3, Curtis)
11th June 2011 – FD – Finn Harps 1-0 Waterford United (McHugh)
6th June 2011 – FAI – Finn Harps 0-1 Longford Town
3rd June 2011 – FAI – Longford Town 0-0 Finn Harps
30th May 2011 – FD – Monaghan United 1-0 Finn Harps
26th May 2011 – FD – Finn Harps 1-0 Athlone Town (McHugh)
20th May 2011 – FD – Limerick 1-0 Finn Harps
13th May 2011 – FD – Mervue United 2-1 Finn Harps (Brolly)
5th May 2011 – FD – Finn Harps 0-1 Wexford Youths
29th April 2011 – FD – Shelbourne 1-0 Finn Harps
22nd April 2011 – FD – Finn Harps 1-2 Longford Town (Brolly)
19th April 2011 – FD – Athlone Town 1-0 Finn Harps
15th April 2011 – FD – Cork City 5-0 Finn Harps
8th April 2011 – FD – Finn Harps 0-0 Salthill Devon
28th March 2011 – EA – Mervue United 1-0 Finn Harps
25th March 2011 – FD – Waterford United 1-0 Finn Harps
18th March 2011 – FD – Finn Harps 2-2 Monaghan United (McHugh 2)
4th March 2011 – FD – Finn Harps 2-2 Limerick (McHugh, Harkin)
Tags: