Senior Football
Naomh Mhuire got off to a strong start against Buncrana at the Scarvey on Sunday and went in 07-to 02 at half-time. Buncrana fought back valiantly in the second half but were unable to close the deficit. Simon Cuffe and William McLaughlin performed well for Buncrana on the half-back line and Christy Bell did well in the middle of the park. Due mainly to some inconsistent results from most teams in division three this season Buncrana still sit top of the league. The final score was 1-9 to 1-12. Naomh Mhuire reserves also edged ahead of Buncrana reserves. On Saturday 1st October, Buncrana travel to Carndonagh. Throw-in time is 2:30pm. There will be no reserve match as Carn reserves will be playing in the intermediate reserve championship first round play-off.
County Convention
The Donegal GAA County Convention for 2011 will take place in The Finn Suite, Jacksons Hotel, Ballybofey, on Wednesday the 14th December, commencing at 7.30pm. Any managers or parents with photos or articles / stories they think should be included in this year's Donegal GAA Yearbook should send them to buncrana.pro@gmail.com asap as the yearbooks will be printed and distributed at the county convention. Images should be high resolution.
Irish News Ulster GAA Club and Volunteer Conference
Donegal Clubs are being urged to sign up for the fifth Irish News Ulster GAA Club and Volunteer Conference which will be held on Saturday 29th October in the Armagh City Hotel. This is Ulster GAA's flagship non-games event which is focused at supporting clubs, volunteers and community development right across Ulster's nine Counties. The Ulster Council supports over 250,000 volunteers working in 580 constituent GAA clubs and approximately 600 constituent educational units across the Province.
BORD na nÓG
Colaiste Inis Eoghain
A draw was probably a fair result at the end of an entertaining Rannafast Cup Section A game, played in Muff on Friday afternoon 23rd September. Going into the game Macartans would have been strong favourites to return home with the two points, having only suffered two defeats in two years, losing in a Corn na nOg semi final in 2009 and again to St Pats Maghera in the Brock Cup Final last year.
The Monaghan boys started off brightly and had the ball in the net after just three minutes, following a fine move on the left, which carved an opening for David McAllister to slot home. Inis Eoghain began to find their feet, but they were guilty of missing a number of easy scores, following good approach play. Tom Hayes added a second point for Macartans on eleven minutes and by the end of the first quarter looked to be in complete control. The home side made a number of positional switches, with Kevin McLaughlin moving to midfield alongside Conor Harkin and their domination helped to set up Darragh O Connor for their first score on fourteen minutes. Midfielder Thomas Lynch restored the visitor's three-point advantage when he fired over on nineteen minutes. The final seven minutes of the half belonged to the lively Darragh O Connor, first he hit a point on twenty-three minutes and then in a three minute spell before the break, he opened up the Monaghan defence to fire home two superb strikes to give the home side a lead of 2.02 to 1.02
Inis Eoghain stretched their lead immediately after the break when Darragh O'Connor fired over another point, but Christopher McAneneley responded two minutes later with a fine score from play. Buncrana youngster John Campbell, playing at full forward made his mark on the game for the home side on forty-three minutes with a long range point and then two minutes later he somehow managed to get his hand to a high ball on the edge of the square to flick it to the net for to stretch the lead to seven points as the game entered the final quarter.
St Macartans upped their game at this stage, showing a lot of quality play to score three unanswered points through Christopher McAneneley, Jason McHugh and the impressive Conor McCarthy. Inis Eoghain stretched their lead again to five through a point from Kevin McLaughlin and looked set to score a memorable victory, with just five minutes left on the clock. Kevin Loughran had different ideas, as he pushed forward from half back, starting and finishing a fine move to find the back of the net and it was game on, as St Macartans sensed panic in the home defence. The visitors finished in a flurry, Christopher McAneneley reduced the deficit to a point and then Conor McCarthy, who had an outstanding game in the middle of the park hit the equalising point in added time, much to the delight of the visiting support.
Overall an entertaining game played on a fine surface at Muff, and despite a strong swirling wind and both sides will be pleased with their first outing, knowing the result could have gone either way. Best for Inis Eoghain were, Darren Gallagher, Conor Harkin, Darragh O Connor and Kevin McLaughlin, while Kevin Loghran, Christopher McAneneley David McAllister and man of the match Conor McCarthy.
Colaisti Inis Eoghain: Caolan McGonagle, Danny Monagle, Kieran O'Connor, Shane McLaughlin, Ryan Doherty, Aaron Friel, Tony McCleneghan, Conor Harkin, Fergal Doherty, Darren Gallagher, Darragh O'Connor (2.02), Kevin McLaughlin, (0.01), Adam Byrne, Ciaran Diver, John Campbell (1.01), Conor Byrne, Niall Diver, Ciaran Hirrel, Ruairi Bradley, Georgie Kelly, Mark Doherty, Caolan McLaughlin, Jamie McLaughlin, Conor Doherty.
www.ulstercollegesgaa.org
Under 10 Hurling Blitz
Our club hosted a well attended u10 hurling blitz on Sunday which was kindly sponsored Kavanaghs Supervalue Buncrana, Tommy O'Neills team preformed well only losing one match to Setanta. and winning three.
Under 13 Hurling
The u13 hurlers finished top of their group and are through to the semi-final of Division 1 of the Northwest league, they beat Dungannon in Banagher on Sunday last in impressive fashion. Early goals settled
any early nerves and the boys ran out comfortable winners, next weeks opposition will prove a bigger test and all support is welcome.
Under 10 Football Blitz
Congratulations and well done to everyone involved in the under football blitz which took place last Saturday in Malin. Buncrana won the blitz! Thanks to Malin for hosting the event.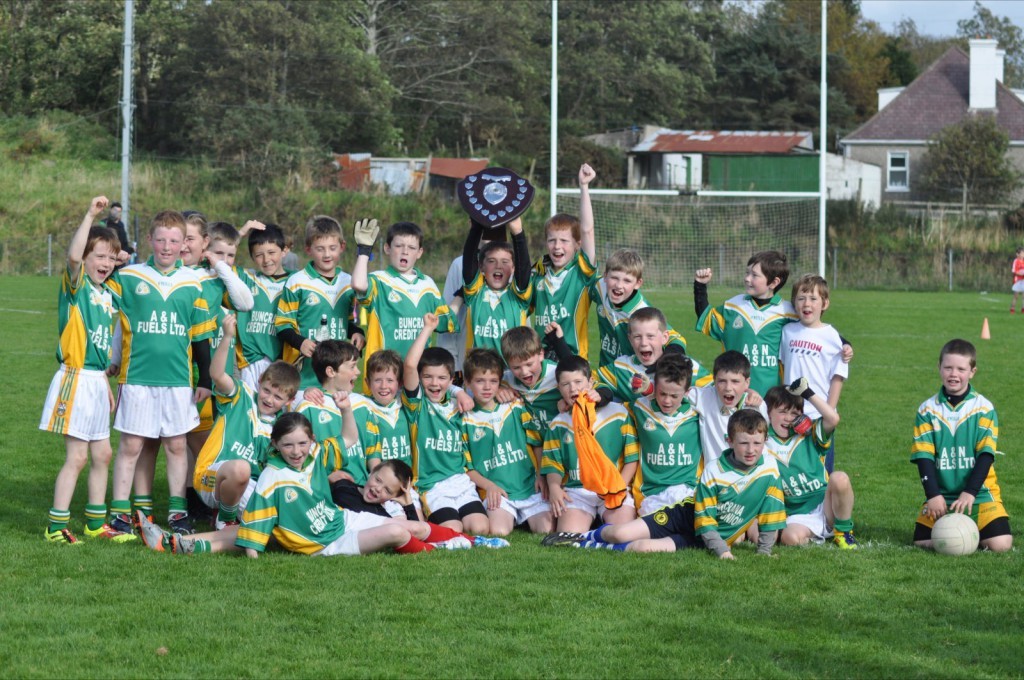 Recycling
CLOTHES RECYCLING FACILITIES NOW AVAILABLE AT THE SCARVEY!
Club Notes
Anyone who would like to receive a copy of the weekly club notes should email buncrana.pro@gmail.com, stating so.
Lotto
The winning numbers in the €2,050 jackpot lotto draw, which took place on Tuesday 20th September in O'Flaherty's Bar on the Main Street, are as follows: 01-06-07-19.
There were no winners. There were five €20 consolation prizes which went to the following participants:
Anne Hegarty, Grange, Inch Island;
T. Smith, Crana Rd;
Philip Logan, Buncrana;
John O'Loughlin, Millfield;
Sean Clerkin, Porthaw.
Use of the Scarvey pitches for training or matches MUST be confirmed with Martin Mullan in advance (087 246 8108). Use of clubhouse MUST be confirmed with David McConnell in advance (087 939 2767).
If you do have any items which you think should be included in the club's weekly notes, please email buncrana.pro@gmail.com by 6pm on a Sunday for consideration.
To keep up to date with all the latest goings-on, please join us on www.facebook.com/buncranagaa or www.twitter.com/buncranagaa
Tags: