A man has pleaded not guilty at the Special Criminal Court in Dublin to the murder of another man at a church car park in Co Donegal in February, 2008.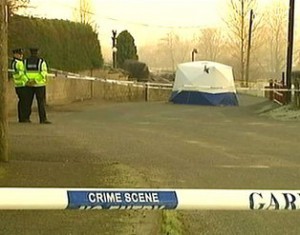 The court heard that Martin Kelly was part of a joint enterprise to lure Mr Andrew Burns, who lived in Strabane, Co Tyrone, to the car park at Donnyloop, Castlefin.
The shooting was heard by a group of five young people from Clady, Co Tyrone who were walking in the area, he added.
Martin Kelly (aged 36), a bus driver, of Barrack St, Strabane, Co Tyrone pleaded not guilty to the murder of Mr Andrew Burns (aged 27) at Donnyloop, Castlefin, Co Donegal on February 12, 2008.
Opening the prosecution case, Mr O'Connell said that on the day of the murder, Mr Burns spent the day at the home of his elderly parents, three miles outside Strabane, and they dropped him back to the town around 6.45pm.
A group of five young people from Clady in Co Tyrone, which is 1.4 kilometres from Donnyloop, were walking along the road just after 7pm.
Two of them would give evidence that they heard two shots about 7.10pm.

They also saw a silver car drive in the direction of the car park then drive past them at high speed.
Later they saw the body of Mr Burns on the road.

Some of the young people saw Mr Burns stumble on to the roadway, an ambulance was called and arrived at 7.35pm.
Mr Burns was pronounced dead by a doctor at 7.58pm.
A post mortem carried out by State Pathologist Dr Marie Cassidy established that Mr Burns was shot twice in the back, one shot hitting him in the left shoulder and the other in the middle of the right back.
This second shot penetrated the aorta and Mr Burns lost a substantial amount of blood. The cause of death was a gunshot wound to the trunk.
Mr O'Connell told the court that Kelly was arrested in Milford, Co Donegal in February, 2010 and he was taken to Letterkenny Garda Station where he underwent 17 hours and 22 minutes of interviews by gardaí.
Counsel said that Kelly made a number of statements to gardai and the court was told that the defence are challenging the admissibility of the alleged statements on the grounds that they were not made voluntarily.
The trial is expected to last three weeks.
Ends
Tags: