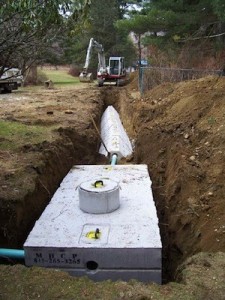 People in rural Donegal could face bills of up €12,000 euro for their septic tanks, a local Senator claimed today pointing to new legislation published by the Minister for the Environment Phil Hogan.
The legislation includes a registration charge, multiple inspection charges and possible significant upgrade charges.
For a household that appeals an inspector's findings and subsequently has to carry out upgrade works, the cost between inspection charges and registration charges could be up to €450.
Where a person with a septic tank is forced to replace it with a proprietary treatment plant, it could cost up to €12,000 between planning permission, ecologists reports and construction of the system.
Fianna Fáil Senator Brian Ó Domhnaill commented, "Despite assurances from the Environment Minister Phil Hogan that he would not impose inspection charges on septic tank owners, this Bill is riddled with stealth taxes in the form of repeated inspection charges. Only the first inspection is free. Subsequent inspections will cost €200 each time on top of the cost of any necessary upgrade works.
"Despite spending over €200 million a year on water and sewage services nationally, no provision has been made by Minister Hogan for grants to septic tank owners in need of upgrades.
"It is clear that the Minister's attitude is that rural Ireland must continue to pay the full cost for maintenance and upgrade of sewerage treatment systems and also pay the State or local authority for most inspections and registration.  This is in stark contrast to the situation in the towns and cities, where the provision of sewage systems is heavily subsidised and maintenance and upgrades are free for homeowners.
"The bill that the Minister has published has confirmed my worst fears and in many instances, it is worse than I had thought possible. It is interesting to note that this Bill was published without fanfare and that no press release was issued. In fact, its publication would not have come to light without a question from Fianna Fáil's Robert Troy during Order of Business in the Dáil today.
"Fianna Fáil will oppose this Bill tooth and nail and will stand up for the rights of septic tank owners. I am fully aware of the public's anger in relation to this issue after holding public meetings in Castlefin and Gortahork with further meetings planned on the issue. Fianna Fáil Councillors in County Donegal have also passed a motion opposing the introduction of septic tank charges. ";concluded Ó Domhnaill.
Follow us on www.twitter.com/donegaldaily
Follow us on www.facebook.com/donegaldaily
Sell anything on www.donegaldailyclassifieds.com
Tags: