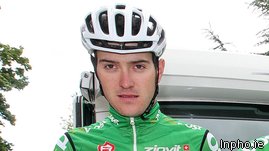 Donegal cycling king Ronan McLaughlin is the latest Irish rider to commit to the An Post Sean Kelly team, as manager Kurt Bogaerts announced he had penned a new one year deal.
Ronan has been with the team since 2008 and although he didn't have any major results in his own name, he was a key influence behind many of the team's successes last year.
"Ronan has continually progressed since he joined the team four years ago. Last year was his best season yet; he put in some great teamwork for Gediminas Bagdonas' two stage race wins, the An Post Rás and the Tour de L'Oise, as well as being part of the team which helped Mark McNally win the Mi-Aout en Bretagne in France.
"He's a really good team rider and I'm looking forward to him progressing again next season." Bogaerts said.
He added: "I have some more riders that I would like to sign and a few that we are still negotiating about re-signing. It's exciting times for us and because of last season's results there are a lot of riders out there that want to be part of it."
Tags: