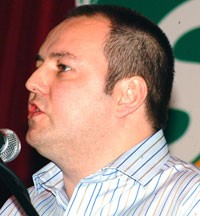 In a joint statement following media reports that the Irish government has withdrawn funding for the A5 Aughnacloy/Derry dual carriageway, Sinn Féin Donegal TDs, Pearse Doherty and Pádraig Mac Lochlainn, Pat Doherty MP, MLA (West Tyrone) and Cavan-Monaghan TD, Caomhghín ÓCaolain have demanded a meeting with an Taoiseach to discuss the deeply serious ramifications of such a decision.
Responding to the reports, Deputy Pearse Doherty said: "Media reports quoting Northern Finance Minister, Sammy Wilson claiming that the Irish government has withdrawn financial support for the dual carriageway from Aughnacloy to Derry are very disturbing.
"Sinn Féin will be seeking an urgent meeting with an Taoiseach to impress on him and his government their commitment to this project under the terms of the St Andrew's Agreement.
"This project was the result of protracted negotiations and agreement between the governments and political parties at St Andrew's and it is incumbent on the Irish government to fulfil its responsibility under that agreement.
Deputy Pádraig Mac Lochlainn continued: "This is just the latest indication of this government's disdain for the Irish people and its complete subservience to the IMF/ECB/EU Troika.
"On the one hand the Taoiseach lectures the Irish people on the need to honour commitments when it comes to paying in full, unsecured Anglo bondholders but on the other seems to believe that it is okay to unilaterally derogate from the Irish government's sovereign agreements entered into with the elected representatives of Irish citizens in the Six Counties as part of an international agreement (St Andrews).
"This is absolutely unacceptable. The North West and Donegal/Derry in particular has been ignored for too long. Sinn Féin will fight this tooth and nail and work with other political parties, business, tourism and community leaders to fight this disastrous decision."
© 2011 donegaldaily.com, all Rights Reserved
The copying, republication or redistribution of donegaldaily.com Content, including by framing or similar means, is expressly prohibited by law.
Follow us on www.twitter.com/donegaldaily
Follow us on www.facebook.com/donegaldaily
Sell anything on www.donegaldailyclassifieds.com
Tags: