A rent dispute is believed to be the reason behind the closure of one of Donegal's best-known newsagents.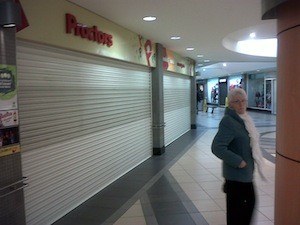 Loyal customers of Proctor's Newsagent in the Letterkenny Shopping Centre were left stunned to find the shutters down on the store yesterday morning.
No notice had been posted on the shutters to give any indication of the sudden closure.
The store is owned by respected businessman Brendan Proctor.
It is understood that Mr Proctor has been in negotiations with the owners of the shopping centre, Harcourt Developments.
However Donegaldaily.com understands that Mr Proctor decided it was no longer economically viable to continue to pay the rent on the premises and handed back the keys.
Another storeowner, Alfie Greene of Greene's Shoes, also had a dispute with the shopping centre two years ago.
A source close to Mr Proctor said he had been left with no option but to close down his premises.
"This decision was not taken lightly because Brendan is a family man as well as a businessman. He knows people's jobs are on the line.
"But he was simply left with no alternative from a financial point of view.
"This has not been an overnight decision. There has been a lot of dialogue between Brendan and the owners but Brendan decided he had just had enough," said the source.
Tags: