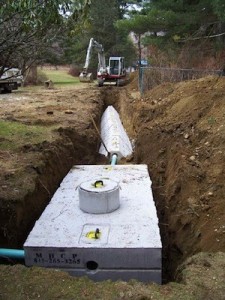 Fianna Fáil will propose major changes to the Government's Septic Tank Bill when the proposed legislation reaches committee stage in the Seanad tomorrow, Wednesday.
The amendments include scrapping the septic tank registration fee and appeals fees, offering homeowners an 85% retrofit grant scheme for any upgrade works required and providing septic tank owners with one free de-sludging per year before the Bill comes into effect.
Fianna Fáil today met with Jim Connolly, founder of the Irish Rural Dwellers Association, at Leinster House to discuss his opposition to Minister Hogan's Septic Tank Bill. Mr Connolly raised particular concerns about Article 70G of the legislation, which gives inspectors powers to "make excavations" of private land.
Seanad Spokesperson on Agriculture Senator Brian Ó Domhnaill will introduce the 75 amendments proposed by Fianna Fáil in the Seanad tomorrow.
"Phil Hogan's Septic Tank Bill is a disgraceful attack on rural communities," said Senator Ó Domhnaill.
"While we recognise the need to ensure the European Commission's rules are adhered to, Fianna Fáil firmly believes that the entire cost of this process cannot be pushed directly onto homeowners, simply because they do not have access to heavily subsidised sewerage schemes.
"There are 470,000 septic tank owners across the country who are facing potentially enormous bills under Minister Hogan's legislation.
"Many of them could end up forking out up to €17,000 for upgrade works, on top of registration fees and the cost of any appeals they wish to lodge. For example, a new septic tank and percolation area could cost up to €4,000, while technically advanced packaged treatments can cost up to €12,000 with additional installation costs of €5,000.
"Fianna Fáil will put forward a number of proposals to introduce a much fairer system of registering and upgrading septic tanks in this country, without hitting householders with huge bills.  I am urging the Fine Gael and Labour Senators to facilitate a democratic debate on these proposals in the Seanad tomorrow and to consider the constructive proposals we are putting forward."