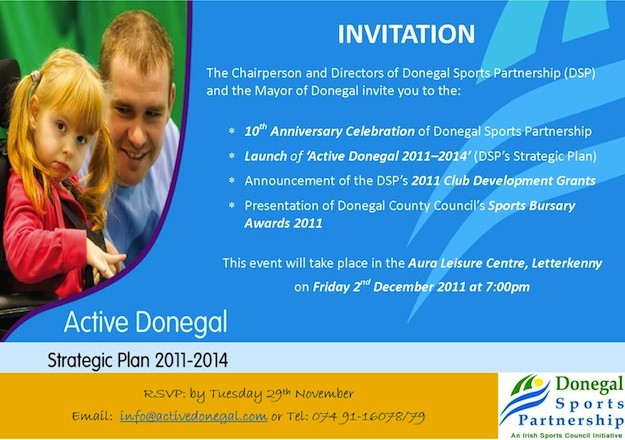 Sport plays a huge part in the lives of many people in Donegal and this again will be highlighted in a special event in which Mr John Treacy, Chief Executive Officer of the Irish Sports Council together with Minister of State Dinny McGinley will attend.
Both men will be guests of honour for a special sports event in the Aura Leisure Centre, Letterkenny to help celebrate the 10th anniversary of the Donegal Sports Partnership.
The event, which takes place on December 2nd commencing at 7:00pm, will also see the launch of  'Active Donegal 2011 – 2014' which is the company's new strategic plan.
Over the past ten years the Local Sports Partnership in Donegal has been supporting and promoting sport and physical activity in the North West with many new and innovative initiatives being developed to encourage greater participation in sport.
Among the recent developments have been;
• The establishment of a dedicated education and training programme for sports club development, for schools and communities.
• A Sports Inclusion Disability Project which provides participation opportunities for People with Disabilities (a report on the progress of this project will be available on the night)
• A cross border sports programme which develops cross community and cross border opportunities.
• Walking and cycling initiatives to support community development.
The first part of the night in the Aura Sports Centre will showcase many of the organisations programmes where groups of young and the not so young will provide a demonstration of fun physical activities followed by the launch of 'Active Donegal 2011 – 2014'
Also taking place on the night will be the presentation of the Donegal County Council Sports Bursary Awards where Mayor of Donegal, Cllr Noel McBride along with County Manager, Seamus Neely will present the counties elite athletes with bursaries to support their ongoing training and development.
Donegal Sports Partnership invites anyone with an interest in sport and physical activity to come along on Friday 2nd December in the Aura Letterkenny Leisure Complex and enjoy the festivities which will commence at 7:00pm sharp.
Anyone interested in coming along on the night should let the Donegal Sports Partnership staff know either via email to info@activedonegal.com or by calling 074 9116078 or16079.