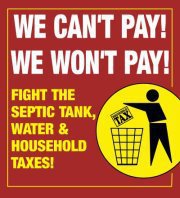 In a growing opposition against the planned introduction of Septic Tank, Water and Household charges by the government, yet another public meeting to discuss the charges and campaign against them has been announced.
The latest one will be held in Downings on November 28th.
The community based meeting which is part of the 'We Won't Pay' campaign will be held in a similar vain to that of a series of meetings which have already been held across the county and will feature guest speakers and an open debate from all attending.
To date meetings have been held in various areas including Newtowncunningham, Letterkenny and Gaoth Dobhair where over 200 people attended and most recently in Donegal Town where over 350 people gathered to hear guest speakers which included two TDs voice their opposition and concerns of the government's plans.
All of the meetings so far have been community led having no party political allegiance with groups forming under the 'We Won't Pay' banner in many towns across County Donegal.
The meeting planned for Downings has been organised by local man Charlie Gallagher who says that it is important that communities pull together on the matter.
"This issue of the government planning to tax septic tanks, our water and impose household charges affects everyone in this county and the best way we can resist their plans is by pulling together as a community and voicing our opposition from the grassroots up" Mr Gallagher said.
The meeting which will be held in the Tramore Inn, Downings on Monday 28th November will feature guest speakers Thomas Pringle TD and community activist Micheál Cholm Mac Giolla Easbuig.
Speaking about the planned charges and his reasons for holding the meeting Mr Gallagher said "These charges are grossly unfair and are coming at a time of massive economic hardships felt by many families across Donegal.
"We also have an unprecedented number of people unemployed who are already feeling the squeeze and heaping more taxes and charges on the ordinary people I feel is just unacceptable, and this is why I have organised this meeting in my area. It is obvious that these charges are no more than a method to gather funds to pay back the IMF bailout which was used to bail out reckless bankers and I don't believe that the people should have to foot the bill for the mistakes of a small minority.
"It is important that we all pull together on this matter and if a campaign is community led and by the people I think there is a good chance of fighting it successfully."
* The public meeting in the Tramore Inn will begin at 8pm on November 28th and all are welcome to attend. For more information you can call 0871338333.
© 2011 donegaldaily.com, all Rights Reserved
The copying, republication or redistribution of donegaldaily.com Content, including by framing or similar means, is expressly prohibited by law.
Follow us on www.twitter.com/donegaldaily
Follow us on www.facebook.com/donegaldaily
Sell anything on www.donegaldailyclassifieds.com
http://www.asa.org.uk/ASA-action/Adjudications/2009/6/River-Newspapers-NI-Ltd/TF_ADJ_46380.aspx