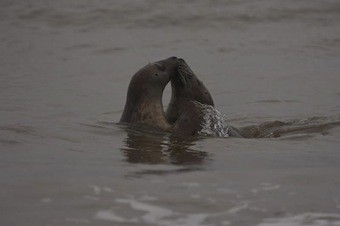 TWO seal pups rescued off the coast of Co Donegal have "fallen in love" at a seal sanctuary in Co Kerry – and are to be returned to the wild together tomorrow.
Grey seal Sheeba and Common seal Robbie were rescued at different times and in different places here in the county.
But when they ended up sharing a pen together at the Irish Seal Sanctuary in Dingle, they became best friends.
And Irish Seal Co-ordianator Hilary McMenamin says the pair will be released back into the wild this Saturday in Rathmullan at 3pm.
"They became best friends, even though they are different species. It's as if they have fallen in love," she said.
"Maybe they knew they were both from Co Donegal!"
Robbie was found in Ramelton in July and was less than three weeks old. Sheeba was found at the beach at Rossbeg in September was about five days old.
Both have been restored to full health.
Said Hilary: "We would invite anyone who wants to come along on Saturday at 3pm to Rathmullan to see Robbie and Sheeba returned to the wild. It is a great success story and a tribute to the people who found them and looked after them."
© 2011 donegaldaily.com, all Rights Reserved
The copying, republication or redistribution of donegaldaily.com Content, including by framing or similar means, is expressly prohibited by law.
Follow us on www.twitter.com/donegaldaily
Follow us on www.facebook.com/donegaldaily
Sell anything on www.donegaldailyclassifieds.com
Tags: