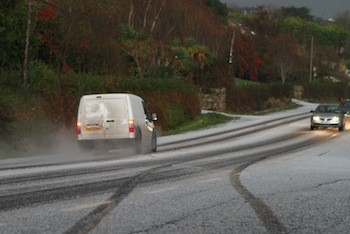 IT'S not as bad as some have reported – but there is still a warning to take care on our roads today after overnight hail, snow and ice.
There have been a number of minor accidents around the county today, but in general most roads are passable.
Some secondary roads are slippy and footpaths in some towns are pretty scary!
Gardai say snow and slush are causing problems. A lorry blocking the road at Meenaroy has been moved.
There is a car off the road near Lifford and traffic is slow at the Barnesmore Gap after an earlier incident.
"It's nowhere near as bad as last year," said one Garda Traffic Corps officer this morning.
"But it is slippy out there in places so motorists do need to slow down. Just because it looks ok, doesn't mean people can drive as if it was a summer's day and we have had some issues with that today."
More snow flurries and hail storms are predicted for later.
© 2011 donegaldaily.com, all Rights Reserved
The copying, republication or redistribution of donegaldaily.com Content, including by framing or similar means, is expressly prohibited by law.
Follow us on www.twitter.com/donegaldaily
Follow us on www.facebook.com/donegaldaily
Sell anything on www.donegaldailyclassifieds.com
Tags: