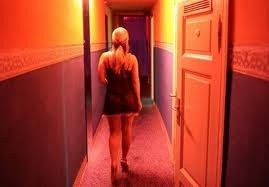 GARDAI have smashed an organised brothel in Letterkenny – just days after it was set up, donegaldaily.com can reveal.
Two Romanian women had set up the brothel last Monday and garda had set up a surveillance operation at an apartment in the town after large numbers of men were seen entering the premises.
Last night gardai raided the premises, arrested two women – aged 28 and 20 – and recovered €875 in cash, condoms and sex toys.
Today at Buncrana District Court the two women were fined €300 each, with the rest of the money recovered in the operation was set aside to fly the women back to Romania.
"There seems to be a few in from Romania because there is money to be made and this needs to be discouraged," said Judge Paul Kelly.
We understand the two women advertised their services on a website and that a large number of men from the Letterkenny area had visited the apartment in the 48 hours in which it operated.
We also understand that Gardai have details of the men involved and prosecutions may follow.
This is just the latest prostitution scandal to hit Letterkenny.
Garda sources say they are aware of several escort agencies being operated by a Co Donegal man and associates from Dublin. Women are flown into the town from eastern Europe as well as the UK.
Websites used to advertise the brothels have also been monitored and details of men who left messages have been traced.
Sources say a large number of men from Co Donegal may well be 'named and shamed' as a result of the investigations into six different brothels in recent months.
© 2011 donegaldaily.com, all Rights Reserved
The copying, republication or redistribution of donegaldaily.com Content, including by framing or similar means, is expressly prohibited by law.
Follow us on www.twitter.com/donegaldaily
Follow us on www.facebook.com/donegaldaily
Sell anything on www.donegaldailyclassifieds.com
Tags: