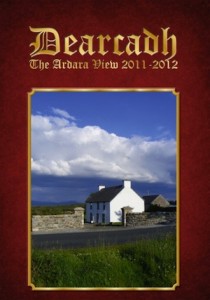 IT'S incredible how some communities get together to produce such wonderful annual tomes – and hot on the heels of Creeslough's annual offering comes the beautifully put-together volune of Dearcadh, the Ardara Annual.
Packed with articles on local folklore, culture and history, the latest edition is perhaps the best edition yet and fishes far and wide for its content.
Produced by a local editorial board involving 12 people, the volume runs to 200 pages and contains pictures and stories which would whet the appetite of readers of local history from far and wide.
"This is the 33rd annual," said Eddie O'Donnell from the editorial board. "It is packed with fantastic information and tales with photographs never seen before.
"We have a fantastic local heritage and it's been very rewarding to put together; to preserve this information for the future."
There are wonderful stories about the British navy visits to Killybegs during the Great War with great pictures to match, as well as more than thirty other articles about the wider south and west of the county.
It's the perfect stocking filler and is on sale throughout these parts from this weekend, priced a very reasonable €8.
© 2011 donegaldaily.com, all Rights Reserved
The copying, republication or redistribution of donegaldaily.com Content, including by framing or similar means, is expressly prohibited by law.
Follow us on www.twitter.com/donegaldaily
Follow us on www.facebook.com/donegaldaily
Sell anything on www.donegaldailyclassifieds.com