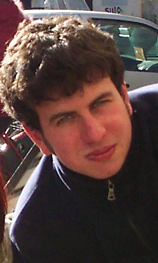 AN American mother has issued a heartfelt plea for information about her missing son, believing a chance encounter could mean he is here in Ireland.
Terri Mullaney, from Scituate in Massachusetts, last saw her son, Matt pictured in January 2003, just before he moved to Florence to study art.
The 23-year-old was last seen outside an Irish pub in the Italian city in February that year.
But in July of the same year a Co Donegal woman contacted Mrs Mullaney to say that she had sat beside Matt on a ferry crossing from Holyhead to Dublin.
Several other Irish sightings of Matt followed in Cork and Galway and he is listed on the FBI missing persons list.
Said Mrs Mullaney: "As a family we are desperate to find our son/brother. His gentle spirit, quick wit and beautiful smile is missing from our lives. Matt is loved and missed by so many. We have been relentless in our search for him since February of 2003.
"Please take the time to look at his face ( and read our story) We know this is our only hope of receiving word about him. We have faith that someone out there has an answer for us. We hope and pray that you will come forward."
If you can help log on to http://www.matthewmullaney.com/.
© 2011 donegaldaily.com, all Rights Reserved
The copying, republication or redistribution of donegaldaily.com Content, including by framing or similar means, is expressly prohibited by law.
Follow us on www.twitter.com/donegaldaily
Follow us on www.facebook.com/donegaldaily
Sell anything on www.donegaldailyclassifieds.com
Tags: