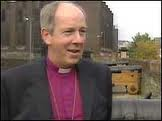 In a new year message, Church of Ireland Bishop of Derry and Raphoe Ken Good has warned that in "focusing so much on what we do not have, we can be in danger of becoming increasingly joyless, powerless and dispirited. A spirit of poverty can erode our sense of hope and can rob us of much of the joy of living, such that our difficulties are compounded."
Bishop Good said that "media continue to remind us, repeatedly and relentlessly, of what we all know only too well: the immensity of the economic challenges we face, the impact of austerity measures, that our standard of living is falling and that things will continue to be difficult for some years to come."
But the start of a new year was a time to be reminded "that there are other indicators of the quality of life, besides those of a purely financial and economic nature".
Even in the face "of serious austerity measures, there can be real value in deciding to be grateful for many good things we do have", he said.
These included "being and feeling alive; enjoying a measure of health, for our family and relationships; having work to do, whether paid or not; the joys of the natural world; a place to live with its security and comfort; the food we enjoy; our faith and sense of purpose in life; our church, our friends and our social life; interests, hobbies, sport; our freedoms and human rights . . . ," he said.
"A conscious decision to be grateful and to be generous can, in fact, be quite empowering and can help us deal with difficult financial circumstances with greater control and resolve," he said.
Tags: