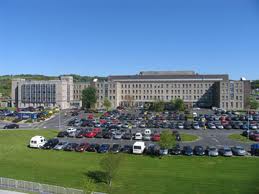 HARD-pressed staff at Letterkenny General Hospital are struggling tonight as the crisis in County Donegal's main hospital spilled over into dangerous territory.
More than 50 people are waiting to be treated at the Emergency Department despite pleas from the hospital for non-emergency cases to use NoWDOC or a GP first.
The hospital has run out of beds. It has run out of trolleys. And some patients are being forced to wait on ambulance trolleys.
Adding to the crisis overnight is an outbreak of the winter vomiting bug.
"It's a nightmare tonight," said one hospital insider.
"There just aren't enough staff or beds to cope with the sheer volume of people who have been turning up at A&E throughout the day."
The insider said appeals for people to stay away with colds and minor sprains have fallen on deaf ears.
"If anything more people turned up," said another source.
Donegaldaily.com has been contacted by a number of people who have been through the hospital today – all of them praising the dedication of staff.
"They were incredible," said one patient, "I'd like to thank all the staff in the A&E for working so hard, doing their best and more. Today,they ran out of beds, they ran out of trollies, having to use some ambulance trollies to treat people and after that weelchairs. When one person was treated and left, another two patients replaced them. These people need thanks for their tireless work."
Outpatient clinics were cancelled on Tuesday and are expected to be cancelled again in Wednesday as staff struggle to cope.
© 2011 donegaldaily.com, all Rights Reserved
The copying, republication or redistribution of donegaldaily.com Content, including by framing or similar means, is expressly prohibited by law.
Follow us on www.twitter.com/donegaldaily
Follow us on www.facebook.com/donegaldaily
Sell anything on www.donegaldailyclassifieds.com
Tags: