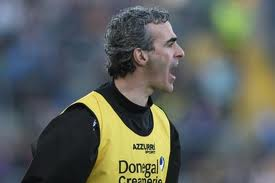 Donegal's senior team manager Jim McGuinness says his team is in better shape this year to have a crack at the All-Ireland than it was last year.
The optimistic outlook comes as Jim enters his second year in charge of the Donegal footballers and he would appear to be in a much better position than 12 months ago when he had to contend with a string of injuries.
Donegal begin their pre-season exploits against University of Ulster Jordanstown in the first round of the Dr McKenna Cup this Sunday.
And McGuinness is in upbeat form after the mandatory eight-week break from training.
"We're definitely starting from a much better base this year," said McGuinness.
"It's a good opportunity to prepare properly for the National Football League. We'll have a stronger McKenna Cup squad this time around then we had last year, no question.
"There are a couple of new faces in there also and this competition will give us the chance to look at them and what they can offer.
"If we can push on through January to April in particular, and get as much work done as possible both in the gym and on the pitch; that should set us up for a year or two of championship football. The next four or five months is very important from that point of view.
"We'd be happy that we got through a huge amount of work last year in terms of fitness and the strength side of things."
Meanwhile Kevin Cassidy is playing down reports linking him to a return to the Donegal fold after his much-publicised exit.
Sources close to the player said he would like to play for his county again, and would welcome a reconciliation but that he feared that would not happen.
© 2011 donegaldaily.com, all Rights Reserved
The copying, republication or redistribution of donegaldaily.com Content, including by framing or similar means, is expressly prohibited by law.
Follow us on www.twitter.com/donegaldaily
Follow us on www.facebook.com/donegaldaily
Sell anything on www.donegaldailyclassifieds.com