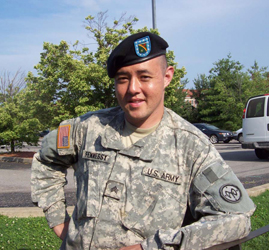 A serving US soldier who learned Irish here and counts Donegal as his second home is the subject of the first ever warzone documentary to be produced in Irish.
Private Seamus 'Na Gaeilge' O Fianghusa was asked to take part in the documentary by TG4 in 2010 as he began a tour of duty in Afghanistan.
The soldier is a member of the famed 69th 'Fighting Irish' regiment in New York.
He was born of an Irish father and Korean mother and raised in Brooklyn, but was always conscious of his Irish heritage.
The documentary 'Dushlan' ('Challenge') follows him from New York to Belfast and Donegal, then onwards to the extremes of the Afghan conflict.
Read the full story here: http://www.belfasttelegraph.co.uk/news/local-national/republic-of-ireland/us-soldier-who-learned-irish-on-the-internet-is-set-for-tg4-16099420.html#ixzz1iZl2lE1W