Fed-up protesters fired the first shot across the bow of the Government as a number of angry protests were held across Donegal today.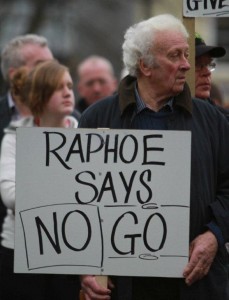 Hundreds of protesters made their voices heard in demonstrations in villages and towns including Letterkenny, Buncrana, Raphoe, Convoy, Gleneely and Castlefin.
Organisers say they hope today's protest is just a 'toe in the water' for one mass rally in the coming weeks against the latest austerity measures.
The protest will included campaigners from Can't Pay Won't Pay, Donegal Action for Cancer Care, Forum for Change, the JML Diesel protest, the Abolish VRT Campaign, and Joe Murphy who has organised protests around the county recently.
Ryan Stewart of the Abolish VRT Campaign said he was encouraged by the number of people who came out.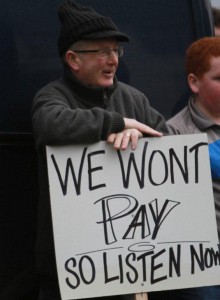 "This is just the start and we plan to make our voices heard louder the next time.
"There were more than 400 people in Raphoe and that is very encouraging.
"We can't allow this Government to get away with the cuts and the taxes they are forcing on people.
"They are depending on people being apathetic and we simply can't afford that.
"We will sit down now and decide our next plan of action.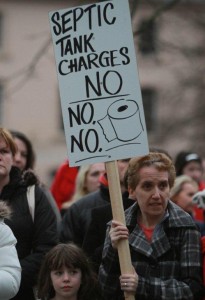 "But the bottom lien is that people must show a willingness to stand up to these so-called austerity measures and let the Government known that we will not accept them," he said.
Ends
Tags: