Daniel O'Donnell has become even more addicted after getting a rare 'hole in one' in recent days.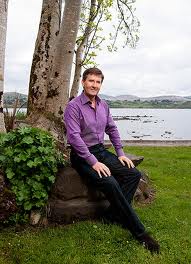 The millionaire singer was relaxing at his Tenerife getaway when he managed the amazing sporting fete.
Wife Majella revealed the star is over the moon and even brought friends out to celebrate!
"We had some friends staying with us over the New Year and we had great fun. They all played golf so Daniel was off most days playing golf.
"Would you believe he got a "hole in one" which is something that happens very rarely in a golfers life! He was delighted and we celebrated well that night," she said.
The Donegal man is an avid golfer and is a member of Cruit Island golf club and also his local club in Tenerife.
Majella also revealed how she spoiled Daniel for his 50th birthday recently by taking him away and also buying him a new 5 series BMW car!
"We went to The K Club which is a beautiful country house just outside Dublin. It was all decorated for Christmas and each room had an open log fire in it. It was just magical. We had a beautiful suite which also had a fire and a Christmas tree in it.
"We spent the first day in the hotel spa where we had a few treatments and just generally relaxed. The next day, a few close friends joined us for dinner which Daniel knew nothing about. He was absolutely delighted. We had a lovely evening.
"I surprised him with a new car which completely shocked him! All in all, we had a wonderful weekend," she said.
Daniel heads away to Florida to work on a cruise in February before heading to Australia and New Zealand.
Daniel will then take a few months off for the first time in 30 years in the music busiess.
"We have no plans yet of what we will do but that will be nice in itself – not having anything planned," added Majella.
Tags: