Letterkenny is in line to become Ireland's first dementia-friendly town.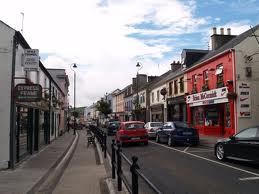 The unique pilot project, which could be launched within months, will see the erection of more user-friendly street signs to help people with Alzheimers or dementia.
The project also plans to train outdoor workers such as traffic wardens about how best to assist people living with the condition if they encounter them in public.
The signs on public buildings will use older pictures which people with dementia or Alzheimers can relate to. These include a pull chain toilet for public toilets and an older model of motor car to display directions to a car tax office or car park.
Letterkenny Town Councillor Jimmy Kavanagh, who is backing the programme, said the number of people developing dementia is growing at an alarming rate.
"This is a very real issue and we are trying to come up with ways of helping people to live with it.
"These might seem like very simply ways of assisting people but we need to introuce these measures. Dementia and Alzheimers are very real problems in today's society.
"The statistics have shown that the incidence of these conditions are getting much greater each year and we need to society to recognise and assist people with dementia and Alzheimers
"As people live longer nowadays and since sufferers and their families want their loved ones to live out their lives in their own homes, rather than in institutions it is becoming more and more important that communities are user friendly for people with dementia," he said.
In Co Donegal alone, there are currently 2,300 people in Donegal living with Alzheimer's or related dementia, although less than half of these will have a formal diagnosis.
Every week another three people in the county will develop dementia and so by 2035 there will be 5,000 effected families in the county.
A total of 10% of all people diagnosed are under 65 years of age with more than 200 people in Donegal with early onset dementia.
The youngest person receiving services from the Alzheimer's society in the county is just 45 years old.
Nationally the Alzheimer's Society of Ireland estimates there are now 46,000 people living with the conditions in the Republic of Ireland and that this will rise to 100,000 by 2035.
The chairman of the Donegal branch of the Alzheimer's Society, Alastair McKinney, says the aim of the project is to allow people with the conditions to live as normla a life as possible.
"We had to push for laws to make sure that buildings has wheelchair access. We did that because it was the right thing to do.
"We are approaching this in the same way. We want these things in place because it is also the right thing to do for the growing number of people with dementia and Alzheimers," he said.
Tags: