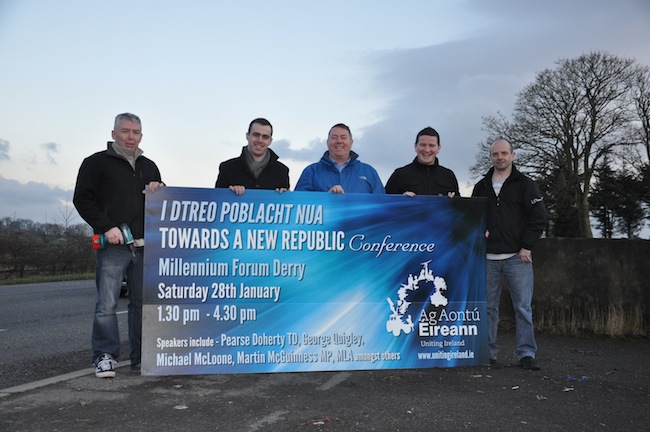 Sinn Féin County Councillor Jack Murray has said that Ireland cannot afford to be partitioned any longer and that a reunified island makes economic sense.
Cllr Murray made the comments as he joined Letterkenny Mayor, Gerry McMonagle and Derry City Councillor Colly Kelly to erect billboards to the promote the upcoming Uniting Ireland conference which will take place in the Millenium Forum, Derry on 28th January.
Cllr Murray said: "A United Ireland is not necessary for idealistic or historical reasons alone. At a time of deep recession, reunification makes perfect economic sense.
"On such a small island with a population of less than 6 million people, we cannot afford to have two health systems, two education systems and the duplication of all public services.
"Donegal, more than any other county, has witnessed the detrimental effect of two tax systems and two competing currencies in such a small state. We can no longer afford a 'swings and roundabouts' situation where Donegal and Derry businesses boost and decline according to the strength of the pound or euro.
"The Uniting Ireland conference in the Millennium Forum on 28th January promises to an exciting event which will discuss Irish Unity from an array of differing perspectives.
"Of particular interest will be contributions from Donegal-born Ulster Unionist MLA, Basil McCrea who will give his unique perspective on the debate.
"He will be joined by former Donegal County Council Manager Michael McLoone who will talk of the effects of providing infrastructural services in a county which shares over 90% of its land border with the North.
"Former senior civil servant, business leader and economist George Quigley will also speak along with human rights and women's activist Inez McCormack and Sinn Féin's Pearse Doherty and Martin McGuinness.
"The event is the latest in a series of conferences which have taken place over the last 14 months in locations such as Britain, United States, Australia and cities across Ireland.
"Previous events have generated huge interest and the Derry event will be no different. Entry is free of charge and is open to all members of the public."
The Uniting Ireland – Towards a New Republic – conference will take place on 28th January at 1.30pm in the Millenium Forum, Derry.
Tags: