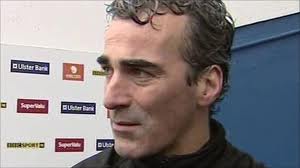 Defeat to Derry, now on to Down BY CATHAL MAC SUIBHNE
Donegal rounded off the 2012 McKenna Cup campaign tonight with a date with Derry, a repeat of last year's Ulster Final. It was a decent Donegal display, coming out on the wrong side of the result by two points.
Jim McGuinness again gave youth its chance with survivors from Sunday's line up including Martin O'Reilly, Daniel McLaughlin and Michael Mullin.
Dermot Brick Molloy was the star of the show early on, scoring five points (three from play) in the first half while it was only an early Derry penalty that kept them within touching distance. Derry played with quite an experienced side and John Brennan has certainly added some defensive steel to his side despite his apparent abhorrence to the notion last season.
Rory Kavanagh made his first appearance of the year, lining out at midfield; the Eunans man was hampered for long periods of last year's Championship with an ankle problem so he'll be a huge plus for the manager if he can regain full fitness.
Derry fought back well early in the second half while the home side went a long time without a score, almost twenty minutes, similar to what happened in the second period at Breffni Park. Donegal eventually awoke from their slumber but couldnt catch the Oakleaf county who go on to a semi final this weekend. Meanwhile Donegal can take stock of the opening stages of what is hoped will be another long inter-county season.
Overall the competition served its purpose – players got back a bit of match sharpness, a welcome break I'm sure from the hectic training schedule they're going through at present, and there were also some newcomers introduced to keep existing panellists on their toes.
SAME SYSTEM
After a successful 2011 though, Donegal are not looking to reinvent the wheel in 2012. The system will remain much the same; tweaks have to be made up front and also in how the half backs and midfield support the full forward line. Other teams will have a better idea as to how to play us, so there'll be a step up to be taken overall – if you're not moving forward you're standing still after all.
Similarly the personnel will not change greatly, if Jim unearths a player or two who can perform in the Championship cauldron then great. If not, it will be those players who didn't quite make the starting team last season, those from 16 to 22 on the panel, who will push us on that bit more. We've already seen Brick and Neil Gallagher do this in the opening fixtures, its up to other players like Eamonn McGee, Martin McElhinney and Marty Boyle to show the manager they're worth a starting berth.
With the way our league fixtures are mapped out, a win in our opener against Down could set us up for a great Division 1 campaign. Last year showed the importance of getting points on the board early – we looked dead and buried against Sligo in our first game, but somehow salvaged a draw from eight points, and a man, down. Then came the terrific performance against Tyrone in Healy Park and after that we were looking good for a promotion push.
It'll be no different this year, we'll have a fair idea after our first two games whether its a relegation battle or a chance at a semi final spot. Tyrone managed to mount a promotion bid last year despite enduring a poor start but Division One won't be as forgiving should Donegal start off poorly. Laois, a team we've played on numerous occasions in the league in recent years, visit O'Donnell Park in Round Two. We'd be expecting to win that game and if that was bringing us to three or four points with three home fixtures remaining we could be anticipating another promising league run.
It's a bit early though for those kinds of permutations and predictions – Jim will be looking at getting somewhere close to his championship 15 over the course of the league and what will be of most interest will be the make up of the forward line.
Michael Murphy's groin operation rules him out until March at the earliest and a niggling back injury will also rule out his partner in crime Colm McFadden for a similar length of time. That means likely starting spots for Dermot Molloy, Patrick McBrearty and Stephen Griffin – certainly two of those three should start in Newry. Griffin, being the only natural right footer of the trio, has a good chance of starting after an his excellent display against Cavan; indeed he would have started tonight but was withdrawn from the line up before throw-in.
The other main selection difference from last year's Championship team will be the gap left by Kevin Cassidy. Leo McLoone started as last year's centre back with Karl Lacey at wing back and there's a fair chance that that will be the configuration again come the Summer.
So it's all ahead of us now – at least seven league fixtures and hopefully a lot more than the bare minimum two Championship clashes. A journey like last year is what we're all hoping for and we're dreaming of it being one game longer.
Newry in February…..Croke Park in September…..we're on the road again.
Tags: